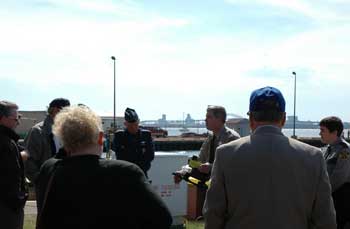 St. Louis County Sheriff's Office Shows VideoRay as Part of "A Success Story for How Homeland Security Funds Have Been Spent on Essential, Dual Use Equipment" – VideoRay presented during Civic Leader Tour of Duluth, MN, on September 10, 2004.
During a tour at Coast Guard Station Duluth, the VideoRay underwater robot was presented to a high profile delegation including General Ed Eberhart, Commander of North American Aerospace Defense Command and U.S. Northern Command , several retired and active generals, and other dignitaries. Marine Safety Office Duluth and Station Duluth hosted the General and his group during a Civic Leader Tour of Duluth, MN, on September 10, 2004.
"I presented the VideoRay as an example of a success story for how Homeland Security funds have been spent on essential, dual use equipment," says St. Louis County Undersheriff David Phillips, who briefed the delegation on the ROV and gave a hands-on demonstration in the water. The VideoRay was purchased through a state homeland security grant specifically earmarked for volunteer rescue or ambulance agencies and has since been used for successful body recoveries and underwater investigations. Phillips says, "The VideoRay is a tool with homeland security implications that is affordable for a local agency to use dually: for drowning and underwater crime scene work as well as homeland security."
The delegation also received a tour of the Duluth/Superior Harbor on Station Duluth's 44-foot motorized lifeboat and a demonstration of homeland security equipment by the 55 th Civilian Support Team, a Minnesota National Guard unit.
In a recent article by Merrie Schilter Lowe, NORAD and USNORTHCOM Public Affairs, entitled "Lack Of Maritime Security Leaves U.S. Ports Open To Attack," Eberhart stated that the US has made progress "in terms of securing our seas and ports" since September 11, 2001. He referenced the use of law enforcement to check cargo ships "before they even depart the port of origin," and the increased level of "collaboration and cooperation" between the Joint Harbor Operations Centers in San Diego, Calif., and Norfolk, Va., which Eberhart stated now serve as a "prototype" for other port officials.
As commander of NORAD, Eberhart's responsibility includes protecting the US against internal or external threats to the nation. As Commander of USNORTHCOM, Eberhart oversees homeland defense and coordinates military assistance to civilian authorities during a presidential declared emergency or disaster.
For comments, contact:
David Phillips, Undersheriff St. Louis County Sheriff's Office, Duluth , MN , PH: 218-726-2339, email: This email address is being protected from spambots. You need JavaScript enabled to view it.
LCDR Mark Ledbetter, Executive Officer Marine Safety Office, Duluth, MN ; PH: (218) 720-5286 ext 132 / FAX: (218) 720-5258, email: This email address is being protected from spambots. You need JavaScript enabled to view it.