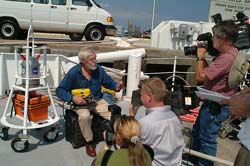 VideoRay Remotely Operated Vehicle Records Deployment of NASA's Acoustic Monitoring System; Validates Study of Species
VideoRay announced today that its VideoRay remotely operated vehicle (ROV) is being used by NASA aquatic biologists and acoustic engineers to monitor fish populations at the Oculina Banks, located 30 miles offshore Cape Canaveral, Florida. The 8-pound VideoRay submersible will video-record the deployment of NASA's patent-pending passive acoustic monitoring system (PAMS) and observe fish as they interact with the acoustic system. The VideoRay has been used successfully in other fish monitoring projects conducted by NASA.
"The VideoRay allows us to perform ground truthing to verify that we are indeed observing the species we intended to study," says NASA Robotics Specialist Steve Van Meter. "Fish are not disturbed by the VideoRay as they are with divers. This kind of observation is ideal for the VideoRay." Van Meter used the VideoRay to study the Goliath Grouper as the PAMS captured unprecedented sounds of the fish.
During the mission, the VideoRay will at times be attached to a larger ROV, a Phantom IIS. The Phantom will transport the VideoRay to the depths of the Bank and video-record the Phantom's underwater activity. The VideoRay will be used on board the M/V Liberty Star, a National Aeronautics & Space Administration space shuttle support ship used primarily to retrieve spent solid rocket boosters. The expedition website, produced by Project Oceanica, can be found by visiting http://oceanica.cofc.edu/ and clicking on "Oculina Coral Banks 2003."