Created on Friday, 30 May 2008 00:00
Hits: 4152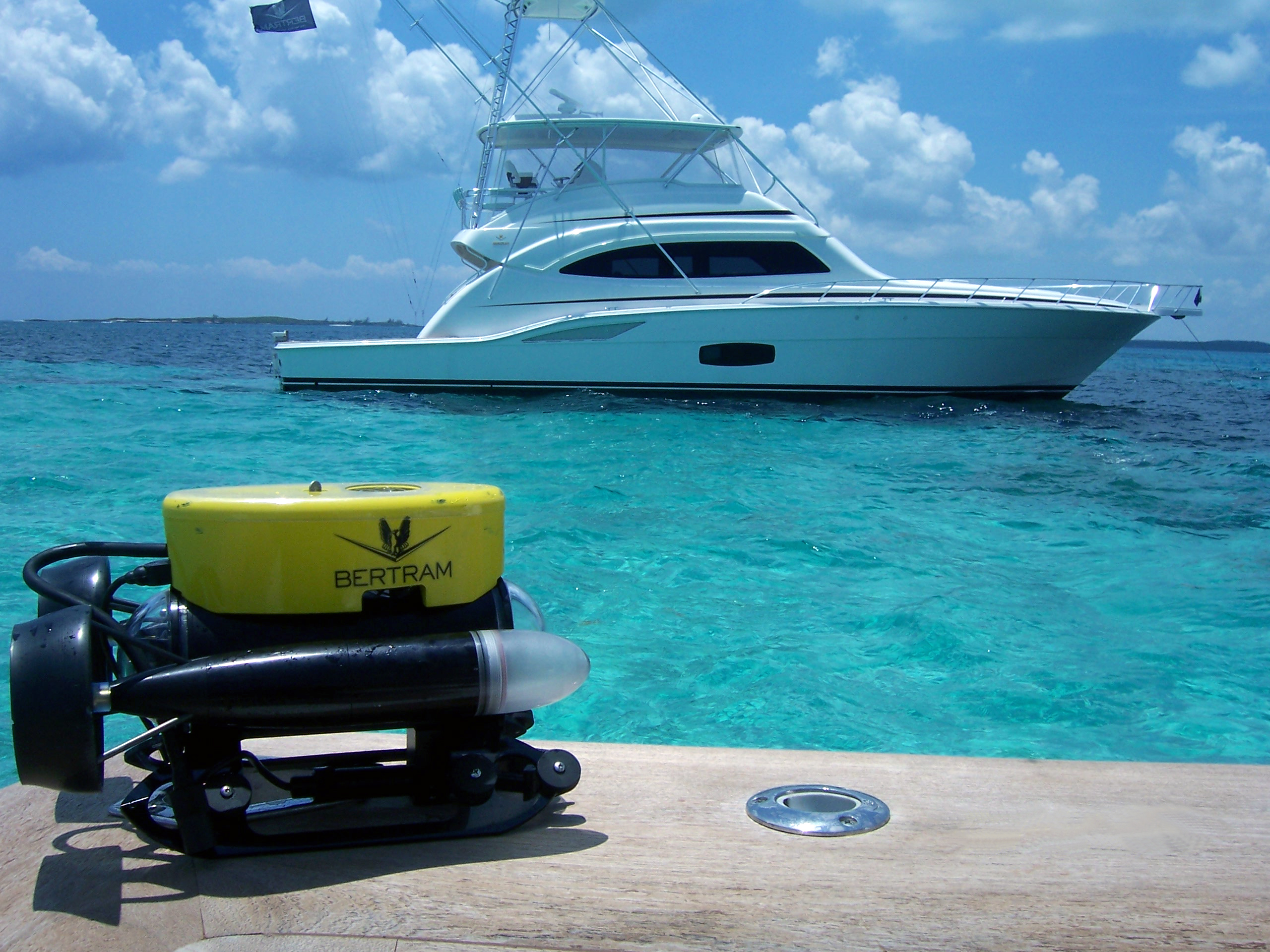 Bertram Yachts and VideoRay Join Forces Miami based sport fishing yacht manufacturer Bertram selects custom VideoRay ROVs as an addition to their line of yachting accessories.
Announcing an exclusive partnership that delivers a unique underwater investigation tool to Bertram owners.
Spring 2008- On a quest to offer owners advanced technology unprecedented in the sport-fish yachting industry, Bertram Yacht announces a new exclusive partnership with VideoRay LLC, makers of the most popular commercially available ROV (remotely operated vehicle). Beginning May 2008, the VideoRay will be available to all Bertram owners through the Bertram website and will also be offered as a pre-wired option on new Bertram yachts.
VideoRays are the smallest, lightest, fastest, and most easily deployed remotely operated vehicles, capturing the finest quality video underwater. They offer the best capabilities required by owners, crew, and guests for inspection, safety, portability and usability. With a variety of uses, the VideoRay appeals to both the cruising customer and hard-core fisherman alike.
After investigating the state of the art products in this industry, Bertram identified VideoRay as an essential tool for the overall yachting experience. Weighing only eight pounds, the VideoRay is easily deployed overboard and can be operated by a single person with a simple remote control from either the comfort of their salon, the docks or even from land. Once deployed, the ROV captures live video that is transferred over to the high-definition television screen located on each Bertram yacht. It is designed to capture any underwater study including an exciting day of diving or a quick overall hull inspection that is extremely useful in checking the condition of a boat's props, rudders or anchor placement. Various models are available with depth ratings from 500 up to 1000 feet. A grabber arm is available to recover items on the seafloor – dropped sunglasses, keys, tools, or ancient treasures recently uncovered in Caribbean ports.
Each unit will be backed by a one year warranty, provided by VideoRay, which can be expanded and extended with VideoRay's Comprehensive Support and Maintenance Program. This program provides protection from all mission related damage or loss and includes added technical support and training. Bertram has teamed up with Underwater Investigative Technologies, which was chosen as the third-party consultant for all of the training and support surrounding the VideoRay.
Shortly after the partnership was introduced, VideoRay was present at the Bertram-Hatteras Shootout XXIX Tournament, one of the premier fishing tournaments in the world. The units caused quite a stir, as every Bertram tournament guest was given the opportunity to test the ROV around their vessels. Once each team of fishermen got a chance to experience VideoRay capabilities and value, they instantly found a use for it. On the second day of fishing, groups of fishing crews and their captains insisted that their hulls be inspected by the VideoRay and continued requesting to use it as a tool during the tournament. After a quick inspection underneath their yachts, they were ready for the competition.
As pioneers in the yacht building industry, Bertram Yacht strives to maintain the tradition of building the highest quality Sport-fish yachts in the world and offer the latest, ground breaking technologies to its customers to keep Bertram at the forefront of technology in the marine industry. Bringing the VideoRay to its customers is another measure that is being taken at the Bertram factory to equip Bertram yachts with the finest technology that the industry has to offer.
For further Media Information:
JIANNINA CASTRO
PR & COMMUNICATIONS MANAGER
BERTRAM YACHT
(305) 633-8011 ext. 509
EMAIL: This email address is being protected from spambots. You need JavaScript enabled to view it.



About Bertram:
Bertram, the legendary Miami-based sport fishing yacht manufacturer, is internationally renowned for outstanding performance in big seas, and leading edge marine design innovations. Today's Bertram continues to draw on the combined experience of its heritage, and that of its parent company, the Ferretti Group. Our unparalleled motivation and dedication to lead has ensured that today, as always, "second place is not an option." The result is one of the world's most successful and respected marine enterprises. For well over forty-five years, Bertram Yachts have been built to exceed their owners' expectations by using only the finest marine components, materials and construction techniques. The result is owner loyalty that's second to none. In fact, most have owned more than one Bertram – because we've earned their loyalty, model after model, year after year. www.bertram.com