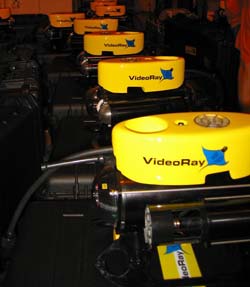 Remotely Operated Vehicles (ROVs) Purchased for Investigating Underwater Threats and Potential Smuggling Operations
VideoRay LLC today announced that it has shipped thirty VideoRays as part of a $500,000+ order from the Taiwan Coast Guard. The complete order includes thirty VideoRay Pro II submersibles and four Lighted Auxiliary Zoom Inspection Camera (LAZIC) units. The VideoRays will reportedly be used for hull inspections and other underwater investigations to support Homeland Security initiatives.
The systems purchased have a depth rating of 500 feet, 500 feet of tether, a Tether Deployment System portable reel, two video cameras, and other features for quickly and easily inspecting underwater threats and investigating potential smuggling operations. The four LAZIC units add zoom cameras that can be positioned to inspect deep into recesses in hulls and piers and maneuvered into locations humans cannot reach. The systems will be used for drug interdiction and weapons searches throughout the coast of Taiwan.
The VideoRay ROV submersible weighs 8 pounds and runs from a small generator, a car battery, or a standard wall socket. The briefcase sized control box includes a joystick, heading and depth readings, and knobs for the 20-watt halogen lights and tilting and focusing the high-resolution camera. The operator sees readings for depth, time, positioning, and can equip the sub with optional scanning sonar, manipulators, acoustical positioning, hydrology sondes, and other instrumentation.