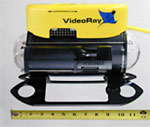 Also Meet Bob Christ, the First Person to See Inside the USS Arizona Battleship for Nearly 60 Years, in Booth #1624
Miami International Boat Show, Miami, FL, February 14, 2002 -VideoRay LLC announced today that it is showcasing its just-released VideoRay 2002 ROV and VideoRay Pro II ROV remotely operated vehicles for diver-less underwater inspections and adventures, in booth #1624 in the Marine Electronics area of the Miami Boat Show at the Miami Beach Convention Center. In the booth, attendees can also meet Mr. Bob Christ, the first man to see inside the sunken USS Arizona battleship in nearly 60 years, through the eyes of a VideoRay swimming video camera. Elsewhere at the show, BIG 106 radio station will be promoting the chance to operate a VideoRay on-site and win a day with a VideoRay on the winner's boat, with National Marine Suppliers.
As seen on the National Geographic and History channels, the VideoRay ROV is the size of a boot box and weighs just 8 pounds. Remotely controlled from land or on deck, the VideoRay is a portable, affordable security device for checking under boats for maintenance or contraband, inspecting piers, moorings, or any submerged structure. It is useful for scoping out dive sites or for entertainment aboard a yacht or boat of any size. VideoRay is the only proven, personal ROV on the market, with hundreds of units in operation in around the world.
Looking through the eyes of an 8-pound VideoRay ROV (remotely operated vehicle), Bob Christ was the first person to see the inside of the sunken USS Arizona battleship in Pearl Harbor since salvage ceased in 1943. As the lead ROV pilot, Christ has been on two missions inside the Arizona. With the National Park Service, he used untried techniques and technology for scientific study, most of which could not have been done even several years ago. Mr. Christ tells fascinating stories of what it was like to be inside this American icon on the 60 th anniversary year of its sinking.
The VideoRay 2002 starts under $12,000 USD.