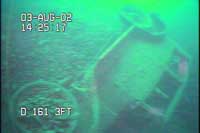 Searches with Remotely-Operated Vehicle Capture Detailed Video Footage in Submerged 1927 Chevrolet; Observes Suspected De-Calcified Bones
VideoRay announced today that its work with Olympic National Park Ranger Dan Pontbriand uncovered more detail in the Blanch and Russell Warren mystery, whereby a couple disappeared 73 years ago in Lake Crescent. The explorations with the 8-pound swimming video camera revealed fine details from inside and around the submerged car, including what Pontbriand suspects are the de-calcified bones of Blanch Warren. Pontbriand is still waiting for conclusions from the FBI.
According to Pontbriand, he performed a dive on June 1, 2002, and removed an object from inside the car, which was finally located in Lake Crescent on April 13, 2002. Pontbriand believed the object was a dress with traces of human remains. To further explore the interior of the car, the National Park Service Submerged Cultural Resources Center called in Bob Christ, who worked with the Service in Pearl Harbor, Hawaii to explore the USS Arizona last year with VideoRay.
Only 8 pounds in weight and about the size of a boot box, the VideoRay is operated from the surface by remote control as its video eye captures underwater footage. Christ was able to explore the area several hundred feet around the car and enter the car to capture footage of fragile objects inside.
"The VideoRay was a good piece of equipment, and it worked flawlessly," says Pontbriand, who also operated the VideoRay. "We have shared the video with family members who were involved in every decision during this investigation. They have recognized the hard work that rangers and volunteers have done and deeply appreciate all that has been done so far."
Olympic National Park dive team members are planning further dives to the site to try to answer the last few questions family members have. With Blanche Warren's remains likely found, the next big question is "What happened to Russell Warren?" Pontbriand notes that the dive site is closed to the public and protected by federal law, as this is an ongoing investigation.