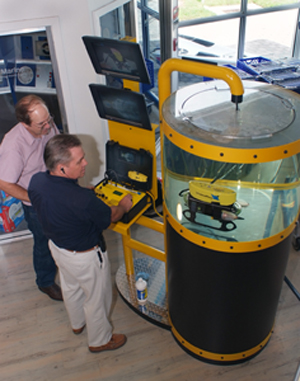 See the World's Leading Remotely Operated Vehicles in Action!
WATSONVILLE, Calif. – November 5, 2007 – West Marine, the country's favorite retailer of boating supplies and accessories, today announced the installation of two unique displays introducing exciting new underwater technology to the boating public. The VideoRay is an underwater robotic camera that allows people to see and explore underwater from the comfort of their cabin.
Randy Repass, the Founder and Chairman of West Marine, saw the potential of using VideoRay technology to make boating safer and more enjoyable after a demonstration in Monterey, California with the Monterrey Bay Aquarium's Science under Sail program. Repass noted, "VideoRay's underwater robots let boaters investigate the fascinating undersea world of coral, fish, and other underwater treasures. You can also perform detailed inspections of the hull and running gear of your boat, and follow the anchor line to make certain your anchor's securely set. All of this can be done without getting wet!"
West Marine customers may select any underwater robot from the entire range of the VideoRay products. The entry level Scout, weighs just 8 pounds and starts at $5995 USD, but VideoRays can be equipped with additional video cameras, sonar, positioning systems or other accessories, and are used for underwater surveys, offshore inspections, search and recovery, homeland defense, science, fish farming and a range of applications in underwater environments. Visitors to the San Diego and Ft. Lauderdale stores can experience and control the VideoRay Explorer model in the new interactive displays – but all units can be ordered from any store or online at www.westmarine.com or by calling 1-800-BOATING.
About West Marine:
West Marine, the country's favorite retailer of boating supplies and accessories, has 380 West Marine stores in 38 states, Puerto Rico and Canada. The Company's catalog and Internet channels offer customers approximately 50,000 products – far more than any competitor – and the convenience of exchanging catalog and Internet purchases at its retail stores. The Company's Port Supply division is one of the country's largest wholesale distributors of marine equipment serving boat manufacturers, marine services, commercial vessel operators and government agencies.