VideoRay's Customer Care
VideoRays have proven to be the most reliable ROV systems on the market. However, all technology tools develop issues - when you need us, VideoRay's customer care is always ready to get you back to your job:
Technical Support – Provides remote support by phone, email and other methods (such as remote login by appointment). Technical support is your first line of defense when you experience technical issues. Bruce Tedor, Technical Support Analyst, will solve many issues with a phone call or by remotely logging in to your Pro 4 computer. If the problem cannot be solved after a thorough remote diagnostic, we will either provide a quote for replacement parts for an on-site repair or the component can be returned to VideoRay for service. If the component needs to be returned, an RMA (Return Merchandise Authorization) will be issued to accept and track your property through our process. Once repaired, Bruce will follow up to make sure everything is working and close the case.
To contact our customer support, This email address is being protected from spambots. You need JavaScript enabled to view it. or phone +1-610-458-3000 and select Option 1
Repairs – When your system is sent to VideoRay for service, our repair department led by Jarrod Kolb will diagnose everything required to return it to top condition, and provide a quote itemizing these repair requirements. Once you decide on the repairs you authorize, the repair team will complete the repairs and perform the equivalent of a new system Quality Control inspection before returning it to you. For all aspects of Customer Service –parts orders. repair status, shipping and other administrative issues and questions, Crystal Sensenig, Customer Relations Manager, is ready to assist you. She will ensure your inquiry is handled expeditiously, accurately and to your satisfaction. Please note that questions about repair status should be referred directly to Crystal in Customer Service, even though you might have started your conversation with Bruce in Technical Support. To email Repairs or Customer Service, use This email address is being protected from spambots. You need JavaScript enabled to view it. or This email address is being protected from spambots. You need JavaScript enabled to view it.. To reach either by phone, use +1-610-458-3000, Option 2
For potentially faster and more efficient service outside of the US, VideoRay operates the VideoRay Authorized Service Center program. Working with VideoRay certified technicians on staff, these centers can provide technical support, parts, and repair services. See http://www.videoray.com/dealer.html to find a VideoRay Authorized Service Center near you. Contact the center for specific shipping and return instructions for repairs.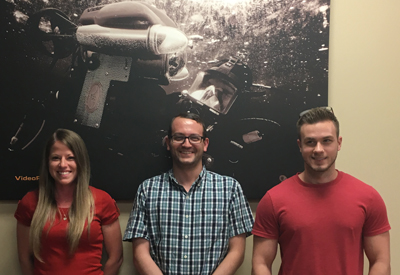 From left to right: Crystal Sensenig, Bruce Tedor, Jarred Kolb