The VideoRay ROV can be used exceptionally well for the process of marine salvage. With the access to high definition resolution VideoRay ROVs offer a safe, efficient, and cost-effective alternative to traditional methods of most offshore shipping operations that involve searching, inspecting, and surveying underwater. Using a VideoRay can dramatically shorten inspection time (from days to hours) to eliminate the need for vessel downtime, and mitigate nearly all of the risks involved with diver deployment. VideoRay ROVs can be used for hundreds of consecutive inspections, requiring only basic field maintenance. VideoRay's reliability and consistency encourage regular inspections while still saving considerable time and resources.
Regularity is only one factor in a good inspection procedure. Quality and thoroughness are essential components of a satisfactory inspection. Through repeated field testing, ROV inspections have proven to be equally as or potentially even more thorough than a manned inspection.
VideoRay operations are inherently safer than deploying divers. Using a VideoRay ROV eliminates or significantly reduces the risks associated with underwater inspections not only for divers, but for the vessel as well. Unlike human divers, ROVs are not susceptible to physical exhaustion, oxygen depletion, or other risks associated with extended dives. An ROV inspection can continue uninterrupted for as long as the operator is willing. The VideoRay's small size makes it possible to access confined spaces, and prevent potential damage caused by accidental contact with the vessel's hull or propellers. Rather than completely shutting down the engine or taking the vessel out of service -- a necessary safety precaution for manned inspections -- ROV inspections usually only require shutting down a single thruster.

Offshore Shipping Job Tasks
Internal Ballast Tank Inspection - Ultrasonic Steel Hull Thickness Gauging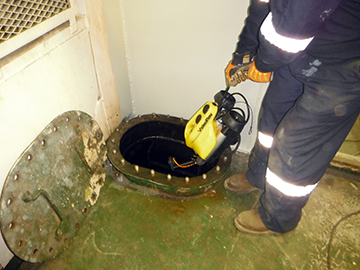 VideoRay ROVs eliminate most, if not all, hazards associated with ballast tank inspections. Within a day or two, the VideoRay can complete a full general (GVI) or close visual inspection (CVI) of all tanks using an ultrasonic metal thickness gauge with an articulating swing arm. Operators can quickly determine which ballast tanks do not require further maintenance, and identify specific problem areas in the tanks that do.
Once unpacked and inside the tank, the ROV conducts the inspection while the pilot operates and observes from wherever they can set up a small table and chair. The ROV easily navigates the tanks, capturing clear video footage of interior structures and surfaces, including corrosion and coating defects.
Compared to the total cost of a manned entry inspection, VideoRays are far and away more cost-effective. Thanks to VideoRay's portable, user-friendly nature, a team of only one or two people can complete a full inspection in a few days, significantly reducing employee work hours needed for inspections. VideoRay inspections can also be conducted without prior analysis or emptying the tank, saving both time and money.
The imagery and data collected during VideoRay inspections can significantly reduce the time needed to plan and perform diver deployments to conduct analysis or necessary repairs. VideoRays can also monitor divers during deployment to ensure their safety while inside the tank.

Sea Chest Inspection and Cleaning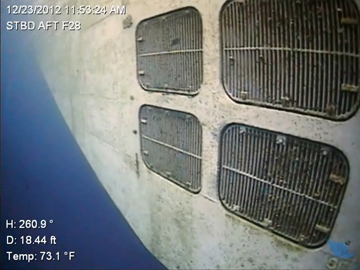 The Environmental Protection Agency (EPA) National Pollutant Discharge Elimination System (NPDES) Offshore permit requires testing and monitoring of Cooling Water Intake Structures on offshore assets for fouling and marine life entrainment. While not a new requirement, March 2014 marked the beginning of mandatory quarterly reporting for compliance with these regulations. DOWNLOAD OUR EPA INTAKE INSPECTION REGULATIONS WHITE PAPER
VideoRays can conduct visual inspections on their own or serve as a pre-dive analytical survey to identify problem areas and test for corrosion or hazardous materials before divers are deployed to perform maintenance.
Besides capturing still images and video of the intake, the VideoRay ROV can collect other essential data such as water temperature and entrainment count. The ROV can also work in tandem with human divers during repairs, providing crew members above deck with real-time data and imagery that can help them monitor and guide divers to specific problem areas. Operators can instantly save these images and data in familiar formats to the ROV's computer or an external hard drive, streamlining compliance reporting and providing an accessible archive for quick reference to previous inspections.
Many major drilling companies utilizing VideoRays for intake inspections have quickly found other uses for the equipment. Several of these companies now deploy their ROVs for routine inspections of anchor systems, ship hulls, and ballast tanks, tripling the return on their original investment.

Vessel Hull Inspection - UWILD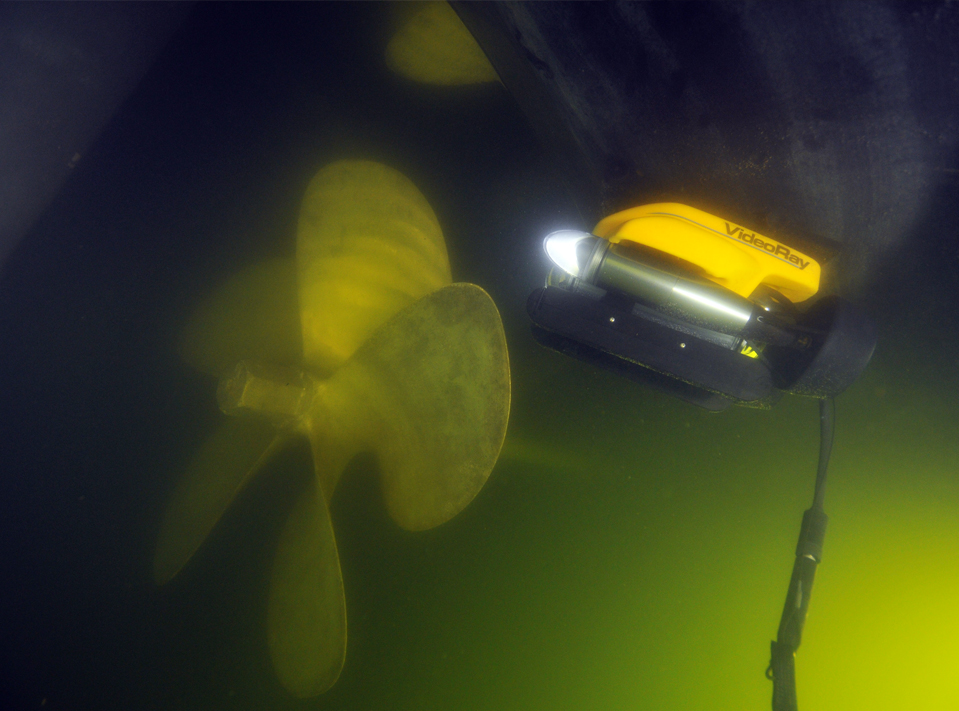 In addition to its abilities in tank inspections, the VideoRay ROV is an exceptional solution for UWILD (Underwater Inspection in Lieu of Dry-dock) applications. Its powerful thrusters, stability through the hull crawling attachment, and wide range or sonar options combined with an experienced operator working with a classification society inspector and USCG representative on deck, a VideoRay can complete a vessel inspection in less than two hours, saving time, money, and allowing efficient scheduling of ships.
UWILD inspections can be completed offshore in clearer water or in lower visibility port environments with imaging sonar options.
RECOMMENDED OFFSHORE SHIPPING ROV SYSTEMS »
| | | |
| --- | --- | --- |
| | | |
| VideoRay Pro 4 | MSS Pro 5 | MSS Defender |
RECOMMENDED OFFSHORE SHIPPING ROV ACCESSORIES »
VIDEORAY ROV INTERNAL BALLAST TANK INSPECTION VIDEO »
VIDEORAY ROV SEACHEST INSPECTION / CLEANING VIDEO »
VIDEORAY ROV UWILD VIDEO »