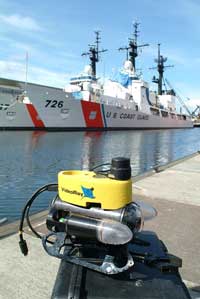 8-Pound Submersible Handles Video, Acoustic Navigation, and Ship Hull Inspections – VideoRay surveillance equipment will be used to protect ports.
The US Coast Guard Headquarters in Washington, DC has placed an order for VideoRay micro-ROVs, accessories, and training that totals $451,405.00 USD. In addition to the VideoRay ROVs, the order includes the Desert Star Pilot Tracking system and AquaMap software that is used for inspecting the hulls of ships for evidence of tampering or potential security threats.
The order comes on the heels of a fourth round of port security grants totaling over $49 million by the Department of Homeland Security to 154 port authorities and other organizations nationwide. The USCG previously purchased VideoRay systems valued over $231,000.
A significant part of the order included VideoRay's Comprehensive Support and Maintenance Program, which provides 24/7 phone support and emergency service, steady upgrades, priority repair, and insurance against losses and damage to the VideoRay.
The Desert Star Short baseline (SBL) positioning system is an acoustic navigation system that provides an accuracy of 0.6 degrees in 40 feet of water. AquaMap Shiphull software makes the VideoRay capable of inspecting ship hulls, dams and other vertical structures. Using a scanned ship plan, AquaMap Shiphull displays the VideoRay against starboard, port, and bottom views of the vessel.
VideoRay ROVs are the smallest, most portable, and most responsive remotely operated vehicles available for underwater surveillance, mapping ship hulls, underwater investigations, and security sweeps. Using the VideoRay allows the USCG to perform many of these tasks quickly, reliably, and without the cost, danger, and delay and disruption of lockouts required with placing human divers in the water. Weighing just 8 pounds, the VideoRay can be deployed and operated by a single person and mobilized in minutes.
VideoRay is hosting a seminar on how to write a grant request for Homeland Security funds, on November 8-9, 2004, in Key Largo, FL. The two-day seminar by Grant Writing USA will teach agencies how to find grant sources, write and review proposals, build relationships with grant makers, develop budgets, overcome obstacles, and improve the chance for a successful application. A detailed paper on Homeland Security Grants is available at GrantWritingUSA.com, where attendees can also register and review the full benefits of the course. The class will precede the VideoRay International Partner Symposium, which brings together users of its VideoRay submersible ROV (remotely operated vehicle), manufacturers of accessories and dealers on November 10-12, 2004 in Key Largo.