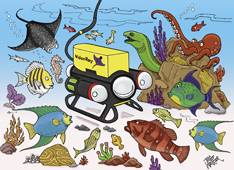 VideoRay finds its way to the Bermuda Biological Station for Research – VideoRay ROV's (Remotely Operated Vehicles) proven successful in assisting research and educational programs.
The Bermuda Biological Station for Research (BBSR) is trying out a new submarine in some of its research and educational programs, and the initial tests have proved very successful.
The tiny remotely operated vehicle, called a VideoRay ROV, weighs only eight pounds and is one of the most compact ROVs on the market, allowing BBSR researchers to explore deep or potentially dangerous study sites that were previously inaccessible. The submarine is equipped with video equipment and a manipulator arm that can be used to collect small samples of sediment or corals.
"The ROV's most important function is to do things divers cannot or should not do," said Dr. Joanna Pitt of BBSR's Marine Environmental Program. BBSR scientists have been using the recently acquired ROV to conduct observations at deeper sites, where divers cannot remain safely for more than five minutes, and at the sewage outfall on south shore.
Dr. Pitt said the small size and easy maneuverability of the submarine were the key features that attracted BBSR scientists to this model of ROV, which is manufactured by the Pennsylvania-based company VideoRay. "The ROV is so small and unobtrusive that we are able to observe fishes without disturbing them," she said.
BBSR's Marine Environmental Program team is taking advantage of these features of the ROV in a new program with Dr. Brian Luckhurst, from the Marine Resources Division of the Department of Environmental Protection, to observe a black grouper spawning aggregation near the edge of the Bermuda platform. Species such as red hinds and other groupers, all of which are commercially important, spawn together in large groups at specific sites and are particularly vulnerable to fishing unless measures are put in place to protect them.
"With spawning aggregations under threat worldwide, the reproductive behavior of these aggregating species is an important research topic," said Dr. Pitt. "The depths at which aggregations generally form are often beyond the limits of safe diving, so the remote cameras of the ROV provide a unique opportunity to study these fishes. This project is the start of an important collaborative effort between BBSR scientists and the Marine Resources Division."
BBSR has also begun to incorporate the ROV into its marine education programs, with plans to use it for everything from university-level summer and semester courses to visiting high school groups and local school groups. For example, underwater activities that students need to perform on the reefs will be videoed by the ROV and shown prior to educational dives.
"It is hard for many students because they have never done science diving before," said Dr. Samantha de Putron, instructor in residence at BBSR. "The concepts of the work are hard to grasp until the students are actually underwater, when it's difficult to ask questions. The ROV footage will give the students a much better idea of what they are going to see and what the correct techniques are."
The new ROV is also expected to be the star of BBSR's most popular educational outreach program, Marine Science Day, which will take place at the Ferry Reach facility this Saturday from 11am to 4pm. Visitors at the open house will be given the opportunity to see the submarine in action and learn firsthand how it can be used to advance BBSR's marine environmental and educational programs.
Last month, the VideoRay research and development team, including the president of VideoRay and an engineer from NASA Kennedy Space Center, visited BBSR to use the deep ocean surrounding Bermuda as a testing location for their new ROV "Deep Blue," which made a successful dive off the south shore to 1,000 feet.
BBSR is an independent marine science organization. It was founded in 1903 by scientists from Harvard and New York University to take advantage of Bermuda's ideal location for deep-ocean and coral reef research and education. BBSR is a Registered Bermuda Charity and a U.S. 501©(3) not-for-profit organization.