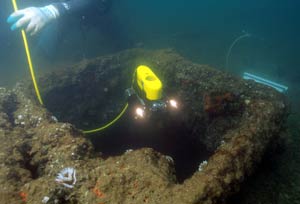 VideoRay Remotely Operated Vehicle (ROV) Used Alongside Divers for Shipwreck Exploration – Daily Updates From Pearl Harbor Beginning November 1, 2004.
Beginning November 1, 2004, archaeologists from the Submerged Resources Center of the U.S. National Park Service are conducting a three-week investigation of the wreck of USS ARIZONA, the American battleship sunk in the Japanese attack on Pearl Harbor, Hawaii, in 1941. Using non-destructive techniques, the team will conduct tests to determine the structural integrity of the ship, record in detail its current state for comparison with earlier surveys, and collect environmental data in the interior of the ship using VideoRay remotely-operated vehicles (ROVs). Because the ship is considered a war grave, divers will not enter the interior spaces of the vessel.
Daily updates on the team's activities will be posted to the project website at http://www.pastfoundation.org/Arizona/InteriorDataCollection.htm. Updates can also be accessed through the NPS Submerged Resources Center 's homepage at http://www.nps.gov/submerged. The website, which was developed in partnership with the PAST Foundation, includes detailed histories of the two remaining U.S. battleships sunk at Pearl Harbor, USS ARIZONA and USS UTAH, as well as background material on Pearl Harbor and the USS ARIZONA Memorial, biographical sketches of the project team, suggested reading lists for kids and adults, and links to educational materials available elsewhere on the Web.
The PAST Foundation is a nonprofit organization that builds links between working archaeologists, students and the public through educational opportunities, curriculum modules and multimedia programming.
ADDITIONAL LINKS:
USS ARIZONA Memorial: http://www.nps.gov/usar/
ARIZONA Memorial Museum Association: http://arizonamemorial.org/
PAST Foundation: http://www.pastfoundation.org/