Formed as an Engineering and Project Management Company in 2002, Proceanic diversified into underwater inspection services in 2013. Working with VideoRay technology to provide reliable and cost effective UWILDs and inspections of floating and fixed marine and offshore assets, Proceanic quickly established a recognized and trusted brand and now has a track record within the industry that is second to none.
Starting with the Pro 4 ROV technology, Proceanic developed procedures, integrated tools and most importantly, field experienced pilots, to provide Underwater Inspections In Lieu of Dry-dock (UWILDs), and Tank Internal Inspections and ultrasonic thickness gauging.
Although the Pro 4 is a proven, work-horse technology, it's small size (a benefit in most applications) meant that offshore inspection and intervention became increasingly challenging as Proceanic (and Proceanic Clients) placed more arduous tooling and operational demands on the ROV.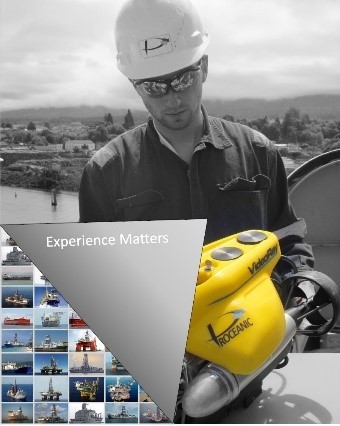 Enter the Mission Specialist Series (MSS).
In 2016, VideoRay introduced the Mission Specialist Series ROV platform and Proceanic was eager to try out this new technology. The Alpha Mission Specialist Defender was deployed to multiple offshore campaigns, and it was clear very early on, that the new ROV had huge potential. Much of 2016 was spent on an iterative development of the technology, with Proceanic providing valuable (and sometimes abusive) field trials data back to VideoRay.
Today's MSS Defender configuration is an evolution of the MSS Platform and contains cutting edge VideoRay Mini-ROV technology, paired with field proven, practical refinements, developed from grueling and diverse offshore and marine inspection and intervention campaigns.
The Defender has allowed Proceanic to greatly increase the diversity of services offered, reduce campaign durations and expand the operational envelope, allowing inspection and intervention at greater depth and in more challenging environmental conditions. Proceanic can now offer a widely expanded portfolio of services, including improved cleaning, riser inspection, mooring chain cleaning, inspection and measurement, sea-bed geo-location, air/nitrogen injection, sea-valve plugging, flooded member detection, CP readings, leak detection, …… the list continues to grow.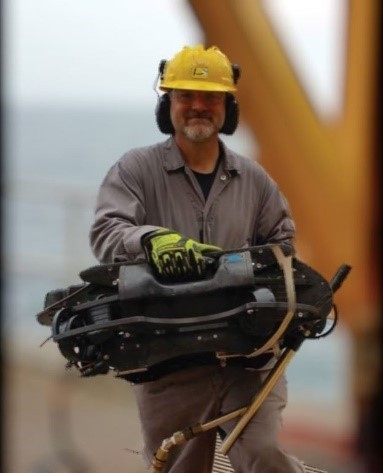 Proceanic recently completed the UWILD of a Floating Production Vessel in West Africa. The 340m long, 55m beam vessel (shown here during a dry-docking many years ago) was inspected on station, offshore West Africa.
Work included inspection below the water-line, localized cleaning (including sea-chests) and weld inspection. Mooring chains were cleaned, visually inspected and measured for corrosion – all to Client and Classification Society requirements and all by ROV.
Much of this work could only be completed with the MSS Defender configuration, which provides a greater tooling pay-load, better maneuverability, improved station-keeping in a current, while still being a hand-carried, portable ROV.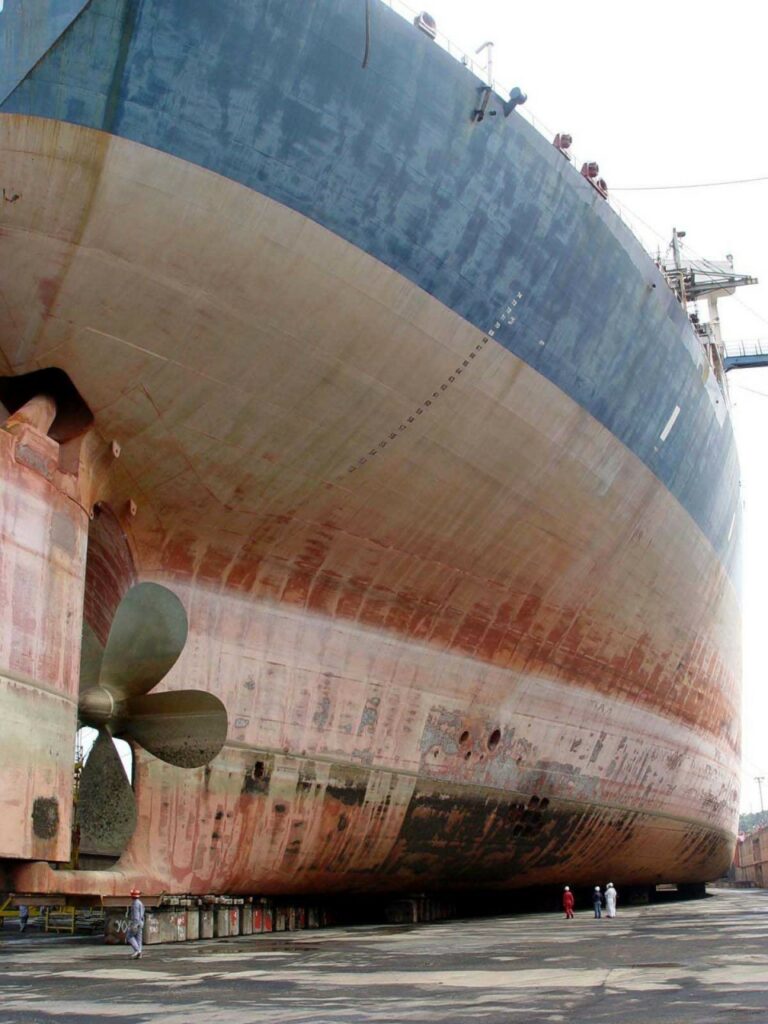 ROV work during MSS campaigns has included;
Mooring Chain Cleaning and Inspection
Mooring Chain Gauging/Measurement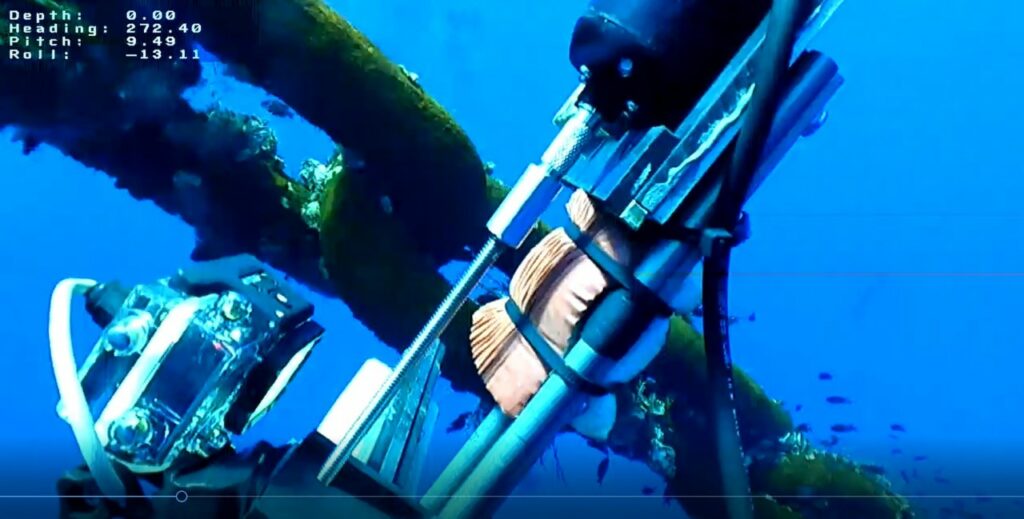 Mooring Chain Angle Measurement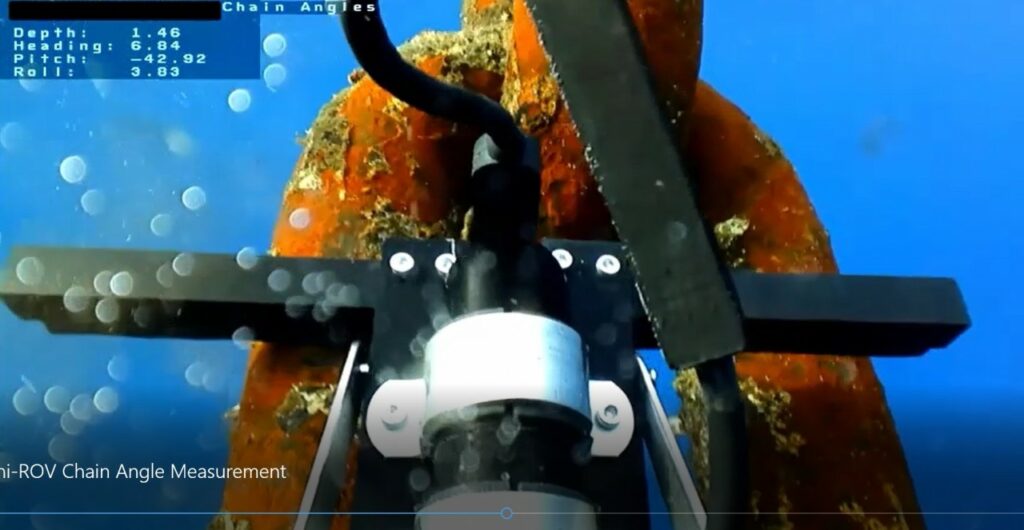 Sea-Valve Plugging for Valve Inspection/Replacement
Inside-Out Inspection of Sea Valves from within the Sea Chest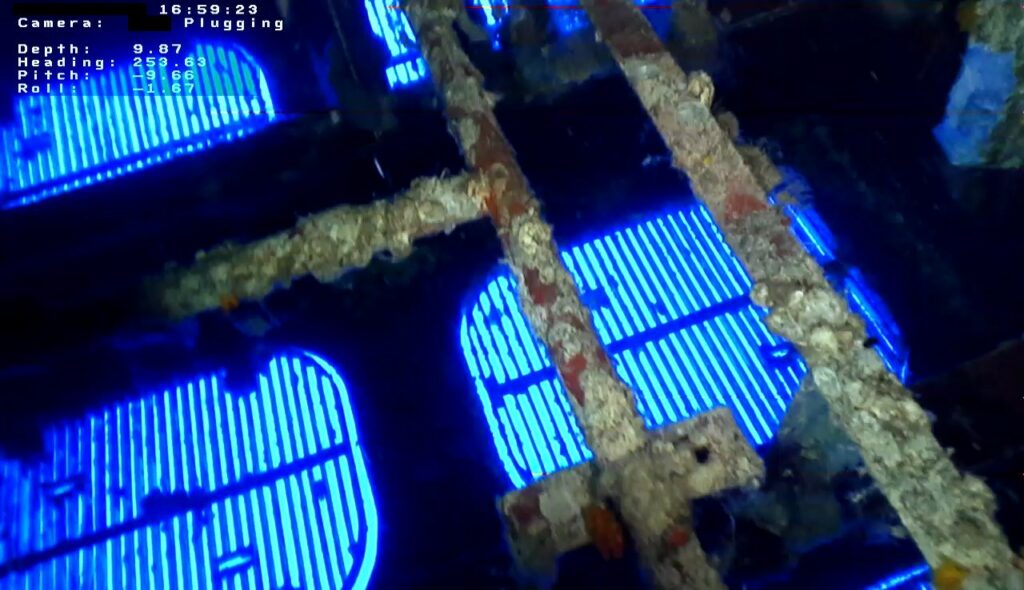 But this really is, only the beginning.
Kyle Satula, ROV Operations Manager with Proceanic said "Back in 2013, we were excited to develop our inspection services with Pro 4 technology, but the revolutionary MSS technology has really allowed us to expand those inspection capabilities, as well as diversify into other methods of intervention, measurement and hull cleaning. Work that took 10 days with the Pro 4 can now be completed in 3 – 4 days using the MSS Defender, with reduced risk, reduced operational/logistic concerns for the client, and ultimately, reduced overall cost."
In order to stay ahead of the competition, Proceanic is constantly planning the next service offering, the next tool integration, or pushing the envelope to achieve greater depth, greater ingenuity, larger cost savings and reduced risk for Clients. The MSS Defender has given Proceanic a more powerful, more flexible foundation upon which they continue to build.