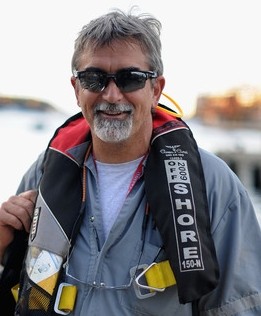 Expert on difficult, large scale salvage will talk about the challenges and lessons learned on the Costa Concordia and other major shipwrecks over the years
Phil Reed will offer a rare glimpse behind the scenes of the most complex salvage operation in maritime history – the Costa Concordia wreck removal. In his keynote address, Mr. Reed will discuss his experiences as salvage master of several notable shipwrecks, including the Concordia. The presentation will be held on Wednesday September 16, 2015 in Pottstown, Pennsylvania as part of the 2015 VideoRay International Partner Symposium (VIPS).
As the largest and most complicated wreck removal project in history, the Costa Concordiacaptivated the world when it foundered off the coast of Giglio Island, Italy in January 2012. The ill-fated cruise ship made headlines again last summer when it was successfully righted and refloated. Mr. Reed, joined by the project's ROV supervisor Mauro Stasi, will discuss the groundbreaking wreck removal project, including the challenges they faced and how they overcame them.
Before successfully refloating the Costa Concordia – the world's largest wreck to be recovered in one piece – Mr. Reed developed and implemented innovative techniques on numerous other wrecks with Titan Salvage. Now a marine salvage and wreck removal consultant, Mr. Reed is often called when a salvage operation requires unprecedented techniques due to the wreck's size or condition.
Mr. Reed helped to pioneer the use of small Remotely Operated Vehicles (ROVs) in marine salvage operations in 2005, after he discovered that they could collect critical underwater information about the wreck, especially in confined spaces and other areas inaccessible to divers. During theConcordia wreck removal, Titan Salvage employed six VideoRay Pro 4 ROV systems for the project's entirety, clocking more than 50,000 hours of continuous use. Mr. Reed's extensive work over the last 10 years has driven most major salvage companies to now regularly employ VideoRay ROVs to conduct preliminary surveys, monitor divers and underwater machinery and to collect data and imagery for reports.
The presentation will include pictures, videos, and personal observations on best practices to accomplish seemingly impossible salvage operations safely, on time, and within budget restrictions. There will be time allotted for audience questions.
Tickets to Mr. Reed's talk are included with all VIPS 2015 registrations. A limited number of tickets may be made available to the public beginning on September 1st.