Insights Newsletter August 2022
Greetings! 
In VideoRay Technical Support, we like to think our primary role is to put ourselves out of business – figuratively of course, not literally.  It's not that we don't like talking with our customers or solving problems, but our philosophy is that anything we can do to prevent a call or email in the first place, is a much better solution than having our customers experience any down time.  To achieve this goal, we work hard to make sure our documentation and training materials are complete and up-to-date, we regularly communicate reported problems to Engineering and continue to look for proactive solutions such as this newsletter and the virtual VideoRay Insights Presentation Series. 
In the coming months you'll see even more activities directed towards this goal.  We are changing our department name to Customer Success and splitting it into reactive support and proactive support groups organizationally.  Our plan is to add more proactive support resources including improved troubleshooting trees and instructional video content, and we're working to add more product and operational use validation testing that goes beyond standard QC and ensures that our products meet the performance requirements of your most demanding project challenges. 
We will still be here to support you, but we hope it is by doing a better job up front rather than after a problem occurs. 
As always, please share your comments, recommendations, and requests to: insights@videoray.com  
Virtual VideoRay Insights Presentation Series
NDT (Non-Destructive Testing) Methods Primer 
Arely Hernandez, VideoRay
Non-destructive testing has been around for decades and has been used by divers and ROVs for underwater inspections.  This primer will provide information about the features and capabilities of various systems including Ultrasonic Thickness Gauges, CP Probes and multi-sensor Sondes.  Does your next project involve NDT? 
Future Insights Presentation Events
Events are scheduled the third Thursday of every month
VideoRay Defender Position Accuracy Tips and Tricks 

This presentation will discuss the technology used in the Defender for navigation and its capabilities, followed by an examination of factors that can influence the accuracy and precision of the vehicle's position.  With that understanding, tips and tricks will be offered to help you start on the right foot, minimize the errors and techniques to make adjustments and corrections. 

Presenter:  TBD 
Troubleshooting Primer, Tips and Tools

Properly operating and maintaining your ROV system is crucial to your mission's success, but what do you do when unexpected technical complications inhibit this success? VideoRay strives to provide effective and user-friendly diagnostics that can get your system operational and back in the water. This presentation will cover the basic principles of effective diagnostics, troubleshooting materials that VideoRay currently offers, as well as an exciting look into a new, comprehensive diagnostic tool in the planning and development stages.

Presenter: Andrew Longua, VideoRay
Presentations may be added to the above dates and beyond – check the schedule for updates and recordings of past presentations [here].
Is it possible to input position values and have the ROV find a known target automatically?
Of course you can! Just follow the steps below and use the Autonomous controls and Waypoints in the Greensea Workspace software. 
To navigate to a specific point, you will want to use a waypoint in conjunction with dynamic positioning and locks. If you are unfamiliar with any of these, we recommend you review our 'waypoint and jog controls' Virtual Training Lesson or recent Insights presentation . 
After a waypoint is created (using any method), you can edit it by right-clicking and selecting 'Edit Waypoint'. Once the waypoint settings are open, you can input the exact coordinate location and depth of the known target, along with how you would like the ROV to fly to it (if there is a preference). 
Once this is done, all you will have to do is ensure the ROV DVL has a lock, enable dynamic positioning (and your corresponding locks), right-click on the waypoint, and select 'Go to Waypoint'. The ROV will begin moving to the specified location. 
If you have a lot of locations to enter, it may be quicker to import them.  See the Greensea Import/Export Tools How To Guide.  
But what if you only have an approximate position of the target?
Your Mission Specialist Defender, with DVL, gives you the opportunity to create a region covering the presumed area of the object.  By opening the missions tab, you can create a new region by simply clicking on the map to insert your first point then by clicking on subsequent positions to enclose your region. The points will automatically join together to outline your selected area, you can use multiple points to avoid known obstructions.  Then by right clicking the mouse within your region you can use the set coverage option to choose a search pattern, define the space between each leg and orient the legs in the most favorable direction with respect to the current or other environmental factors.
Once complete simply click on the start mission option and the vehicle will fly to the first waypoint created by the tool and commence the search. If you're not sure of the topography, it's often best to fly the mission in altitude mode to maintain safe separation between the vehicle and the bottom. You can learn more about this feature and the many options available in this tool in sections 3.11 of the VideoRay Pro Workspace Manual
Operator Tip of the Month – Lessons from the field
Working with Cadaver Dogs
Thanks to Tom Crossmon of Crossmon Consulting
When cadaver dogs that are working in conjunction with ROV search and recovery operations locate a scent, it's important to know that the location where the scent is discovered may not be the location of the victim, especially in rivers with significant current.  To help determine the direction and distance that the scent travels, you can sink a bottle of milk to the bed of the river and release the cap. The distance between where the milk appears on the surface and where the milk jug is located on the bed will determine the scent's traveling distance from the bottom of the water to the surface. 
Technician Tip of the Month – Lessons from the shop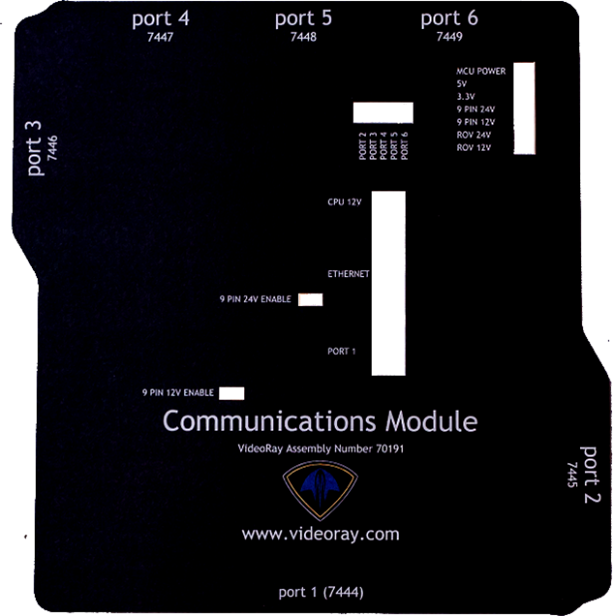 Having a communications issue with a module or accessory?
Both the Mission Specialist Defender's Communications (Comms) Module and the Pro 5's Power/Comms Combo Module have a detailed overlay to help you visually troubleshoot the issue. Port 1 is the Comms/Combo Module's input, and its indicator light should be ON while the module is receiving power. Ports 2 through 6 are the Comms/Combo Module's outputs, used for the camera module, navigation module, and any accessories. These indicator lights should be ON or blinking while their associated port's output is properly communicating. If your Comms/Combo Module's Port 1 indicator light is ON and your problematic module/accessory is connected to its assigned port, but the port's associated indicator light is OFF, there is an issue with the Comms/Combo Module, the cable connected to that port, or the module/accessory connected to that port. If your Comms/Combo Module's Port 1 indicator light is OFF while the ROV is receiving power, there is an issue with the Comms/Combo Module or something closer towards the Operator Control Console (Port 1 Cable, Power Module, ROV Whip, Tether, OCC Whip, Power Supply).
FAQ of the Month – Be "in the know"
Q:  What warranty options does VideoRay offer.
A:  The standard Warranty for new products is 2 years.  VideoRay also offers an Extended Warranty, which can be purchased in annual increments after the standard warranty expires.  VideoRay also offers the Comprehensive Support and Maintenance program, which extends the warranty to cover wear items, operational damage and includes preventative maintenance services.  It can also be purchased in annual increments.  See www.videoray.com or contact your account manager for more information.
Survey Question of the Month – Be counted
Which accessories do you use most often?
Product of the Month – Be informed
Blueprint Labs Reach Alpha 5 Manipulator – Compatible with Defender
The Alpha 5 is a tough and reliable multi-function electric manipulator for harsh environments. With high accuracy joint positioning (0.1°) and a master/slave topside controller, the Alpha 5 is the most advanced manipulator for the portable ROV community. It is highly modular and configurable having 3, 4, or 5 function versions available.
User Project of the Month – Be engaging
Pictured here is the port-side inboard engine of the Tulsamerican B-24, which crashed in the water off the Island of Vis, Croatia (Yugoslavia at that time) while attempting to land at Vis.  It was the last B-24 produced.  
This image was created using a Pro 4 with a GoPro camera to capture over 1,300 images which were then entered into a photogrammetric modeling program to create a 3-D model. 
If you have a recent VideoRay project that you have documented and would like to share, please let us know.  
Email us information about your project for a chance to win a VideoRay T-shirt!*  
Quote of the Month – Be amused
"If you are maintaining a calm air, whilst all around you are running around like crazy, you're either British, or you don't understand the situation."
Email us a quote for a chance to win a VideoRay T-shirt!*  
Photo of the Month – Be inspired
Tug-o-War, VideoRay Bollard Pull vs. Man
Photo by Scott Krelle, VideoRay Certified Instructor
Email us a caption or a photo for a chance to win a VideoRay T-shirt!*  
Last month's photo caption winner
"I think I found the leak." 
-Anonymous 
Power cleaning an aquaculture pipe cage frame late into the night
Photo by Tom Glebas, VideoRay
Trivia Tidbit of the Month – Be stumped
The concept of VideoRay was conceived during a trip to what exotic location and for what purpose? Answers at the bottom of the page.
In-person classes are being offered in Key Largo, FL and at VideoRay's San Diego, CA office.
On-site classes are also available.
Live virtual classes are now being offered…  anywhere you want.
Self-paced virtual training lessons can be found in VideoRay's Training Library any time you want. Virtual Training Library
Email training@videoray.com or call 610-458-3000 and ask to speak to the Training Administrator for more information about              in-person classes.
Upcoming Classes
Mission Specialist Basic Operator, San Diego, CA, August 22-25, 2022
Pro 4 Basic Operator, Key Largo, FL, September 13-14, with additional Sonar Day, September 15, 2022
Mission Specialist Basic Operator, San Diego, CA, September 26-29, 2022
Pro 4 Advanced Maintenance, Pottstown, PA, October 6-7, 2022
Tether Termination, Pottstown, PA, October 10, 2022
Mission Specialist Advanced Maintenance, Pottstown, PA, October 11-13, 2022
Pro 5 Basic Operator, Key Largo, FL, October 18-20, 2022
Pro 4 Basic Operator, San Diego, CA, October 25-26, with additional Sonar Day, October 27, 2022
Mission Specialist Basic Operator, San Diego, November 14-17, 2022
Pro 4 Basic Operator, Key Largo, FL, November 15-16, with additional Sonar Day, November 17, 2022
See more class dates and register online 
Meet VideoRay at these Upcoming Events
DEMA Show 2022, Nov 1-4, 2022, Orlando, FL

Indo Defence Expo & Forum, Nov 2-5, 2022, Jakarta, Indonesia

The Dam Safety Show, September 18-22, 2022, Baltimore, MD
Lorimar Group is a Certified SBA 8a and Service-Disabled Veteran Owned Small Business – SDVOSB that provides Mission Critical Communications and Technologies. The Lorimar Robotics Division specializes in servicing marine Remotely Operated Vehicles (ROV's) with a focus on providing top-tier service to military ROV customers.
We work closely with the world's leading manufacturing companies of underwater ROV systems and maintain the highest level of competence on the newest technology. As a Video Ray Certified Service Center, Lorimar Robotics has a fully stocked ESD safe facility to complete depot level repairs with a quick turn-around time.
Lorimar Group's specialized technicians have decades of ROV repair and production experience to meet the high demands of our military clients.  Our engineering team executes special projects and reports repair trends back to our respective robotic customers. 
Learn more at www.lorimargroup.com or call our 24/7 service line at (619) 749-9399.
While on a sky diving trip above the North Pole, to attend a wedding there.
* – Each month, one submission in each category will be selected and the submitter will receive a VideoRay T-shirt.  Please include your T-shirt size with your submission to expedite its delivery.  Use the respective links above to enter your submission.  VideoRay reserves the right to select its own submission.  Submitters agree that they have rights to the content they submit and to allow VideoRay unlimited rights to use and publish and their submission(s).