OCTOBER 22-24, 2012
Key Largo, Florida, USA
VideoRay is pleased to announce the following presentation abstracts for VIPS 2012. Each seminar will consist of a 45 minute talk followed by a brief Q&A session. For more information and a brief presenter bio, please click on the presenter's name (italicized below the presentation title).

About VIPS Presentations
Each year, VideoRay compiles a variety of quality seminars that reflect the wide range of VIPS attendees' interests and needs. The VIPS 2012 roster of presenters includes experts in ROV technology as well as industries such as offshore, salvage, law enforcement, and science & research. Every presentation has been carefully selected to represent the latest advancements in MicroROV technology as well as the diversity of its capabilities and applications. We strive to offer a quality and worthwhile learning experience for all MicroROV users, whether you bought your first VideoRay a week ago or a decade ago.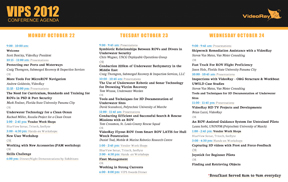 2012 Agenda

Monday October 22
9:00 - 10:00 am: Keynote Address (Scott Bentley - president, VideoRay LLC)
--
10:15 - 11:00 am:
Protecting Our Ports and Waterways (Law Enforcement - Port Security)
Craig Thorngren, Submerged Recovery & Inspection Services, LLC
With 95% of overseas commerce and foreign oil entering through our ports and more than six million passengers on cruise ships each year, making sure the vessels and ports are free of Underwater Hazardous Devices is a huge and daunting task. Complicating the task is the fact that there is no centralized port authority to oversee security and the various types of ownership of the ports. Some are publicly, privately or collaboratively owned.
To help mitigate the threat, numerous international, federal, state and local agencies have turned to using Remotely Operated Vehicles (ROVs) to inspect vessels before they even enter our ports. To help use ROVs more efficiently and effectively, there is a Department of Homeland Security Office of Grants and Training approved course (Remotely Operated Vehicle Underwater Hazardous Device Search Course) that trains personnel how to properly employ ROVs to help keep our ports and waterways open.
This lecture will show how collaboration between private and governmental agencies has worked to help ensure our waterways are kept safe for commerce.
More Tools for MicroROV Navigation (ROV Technology & Training)
Andrew Goldstein, VideoRay
VideoRay ROVs support a more diverse array of navigation tools than most other underwater platforms. This trend is continuing and is an active area of development. There have been several recent notable advances in tools and techniques for navigating with a MicroROV. For example, the use of a Doppler Velocity Log (DVL) is now an off-the-shelf option. New hardware devices can be enhanced with improved software such as SeeByte CoPilot or the new pseudo auto-altitude in VideoRay Cockpit.
Research groups are using VideoRay as a development platform to work on new methods for knowing where your vehicle is and where targets of interest are. For example, the NATO Undersea Research Center (NURC) has had several field trials of navigation via sonar tracking from an autonomous surface vessel.
This talk will discuss improvements to the current tool kit, new tools available, and offer a sneak peek at what is coming in the future.
--
11:15 - 12:00 pm:
The Need for Curriculum, Standards and Training for ROVs in PSD and Port Security (Law Enforcement - Port Security)
Mark Feulner, Florida State University Panama City
Florida State University Panama City (FSUPC) completed an evaluation study in 2010 that examined the techniques and tools available for the execution of the search and inspection activities that public safety divers are routinely called upon to perform. The test teams were drawn from major ports across the country and were selected for their experience and skill in conducting port security operations as well as routine public safety dive functions. The teams included Seattle Police Department Harbor Patrol, NYPD Scuba Team, Jacksonville Sheriff Office Dive Team, and the FBI's USERT team out of Los Angeles. A team from FSUPC's Underwater Crime Scene Investigation was utilized to augment the dataset.
The findings indicated that traditional and technology-augmented search techniques were all very successful methods, particularly in the specific contexts for which they were developed. However, broader implications to ROV training and use were suggested by the results. While these observations were beyond the scope of the study, they provide valuable insights that are shared in this paper.
Underwater Technology for a Clean Ocean (Science & Research)
Rachael Miller, Rozalia Project for a Clean Ocean
Rozalia Project for a Clean Ocean uses a suite of technology including the Pro 4, BlueView sonar, LYYN video enhancement, KCF Smart Tether, and Starfish side scan sonar to locate and remove marine debris from oceans, lakes, rivers, and bays. This presentation will show the techniques and strategies they use to take full advantage of their equipment to recover objects of all shapes and sizes in a wide variety of underwater conditions. In addition, results from experiments with additional, custom (homemade) retrieval accessories will be shared with explanations of what was successful, what was not, and why.
This presentation is relevant for anyone using a VideoRay and accessories to look for or pick up objects underwater.

Tuesday October 23
9:00 - 9:45 am:
Symbiotic Relationship Between ROVs and Divers in Underwater Security (Law Enforcement - Port Security)
Chris Wagner, United States Coast Guard Deployable Operations Group
ROVs and divers each play a vital role in the U.S. Coast Guard's mission to provide maritime security for commercial and military vessels in U.S. and international ports. Each can individually perform searches of vessel hulls, running gear, harbor bottoms, and piers to locate and positively identify items of interest within a designated security zone. However, neither can achieve mission success 100% of the time without the other. After conducting hundreds of successful security searches using both ROVs and divers, the Coast Guard Deployable Operations Group has learned how to strike the proper balance between each to attain the highest possible success rate.
This lecture will discuss the symbiotic relationship between the ROV and Coast Guard diver which exists to ensure proficient execution of underwater port security missions.
Conducting 223km of Underwater Bathymetry in the Middle East (Offshore/Oil & Gas)
Craig Thorngren, Submerged Recovery & Inspection Services, LLC
During the summer of 2011, a Middle Eastern university was contracted by an oil major to conduct an extensive bathymetric survey in the Middle East where they wanted to conduct test drills for hydrocarbons. This survey was needed to complete a baseline assessment and to see if there were any critical habitat areas in or near the proposed well sites.
The tasking faced a number of constraints, including an extremely tight work schedule, limited support facilities, accurate positioning for data collection and very specific data gathering. Additionally, all of the work had to be conducted off of a 25' Boston Whaler. Due to these stringent requirements, a VideoRay Pro4 ROV equipped with KCF Technologies Smart Tether, LYYN Video Enhancement System and a YSI 600XL Sonde Gauge were chosen to complete the survey.
This presentation will cover the highlights and triumphs of this very ambitious expedition.
--
10:00 - 10:45 am:
The Use of Underwater Robotic and Sonar Technology for Drowning Victim Recovery (Law Enforcement - SAR)
Thomas Wrasse, Underwater Warden
Since the 1990s, Remotely Operated Vehicles, sonar, and positioning systems have been used to search for and recover drowning victims. As the technology improves and becomes more widely available, the number of successes increases and the best practices for implementing the technology are emerging. The author, a public safety official for over thirty years with personal experience in the successful use of ROV technology to locate and recover victims, has researched case studies in the U.S. and other countries. This paper will analyze both successful and failed searches, including those that successfully established that a victim was not in a search area. It tabulates the search environment (weather, depth, current, clarity, deployment vessel, etc.), equipment used, preparation and tactics employed, and training that was conducted before operations began. By careful review of what appears to work well and what does not, there are clear and compelling lessons for first responders.
Tools and Techniques for 3D Documentation of Underwater Sites (Science & Research)
David Scaradozzi, Università Politecnica delle Marche (UNIVPM)
Most of marine scientists' work consists in documentation of underwater sites. The common need for different applications is to obtain enriched maps of the underwater environment in an efficient, economic, and non-invasive way. Up until recently, underwater site reconstructions were represented by sketches produced after human surveys, and the geometric measurements were taken by divers with handheld instruments. These techniques require a considerable effort in terms of time and economic resources.
Over the last ten years ISME (Integrated Systems for the Marine Environment) and SBAT (Italian Ministry of Culture, Superintendence of Archaeological Goods of Tuscany) have worked toward automation of the survey process, providing scientific methodologies and the technological tools for the virtual exploration which can be applied to both archaeological and biological environments. This presentation will demonstrate the use of innovative methodology and a system of low cost, easy-to-use and non-invasive tools integrated into the Pro 4 platform to obtain a geo-referenced augmented 3D map of an underwater site. The developed tools have been validated in several underwater sites and by various European archaeological institutions. The same technologies and methodologies can be adapted for use in underwater biological applications.
--
11:00 - 11:45 am:
Conducting Efficient and Successful Search & Rescue Missions with an ROV (Law Enforcement - SAR)
Tom Crossmon, St. Louis County Sheriff's Rescue Squad
Remotely Operated Vehicles have become a crucial tool in search and rescue missions. Public safety officials and first-responders all over the globe rely on ROVs to quickly find and recover drowning victims when time is of the essence.
Tom Crossmon, captain of the St. Louis County Volunteer Rescue Squad in Duluth, MN, has a wealth of knowledge and experience using ROVs. Over the last ten years, Crossmon has developed his team of volunteers – many of whom come from a non-technical background – into a tremendously successful ROV team. They received the Best VideoRay News Story at the 2011 VIPS Awards in recognition of their multiple successful ROV-assisted missions. The squad also conducted the first-ever ROV-assisted underwater rescue in June.
Crossmon will discuss how his team uses their VideoRay to conduct SAR missions and offer suggestions for users interested in setting up their own ROV team. Participants will learn how his squad prepares and conducts an SAR mission as Crossmon draws on a decade's worth of case studies. New and experienced ROV users alike can benefit from this presentation and will walk away with a clearer understanding of how an ROV can make recovery efforts more efficient and more successful.
VideoRay Flyout-ROV from Smart ROV Latis for Hull Wreck Penetration (Salvage/Wreck Diving)
Daniel Toal, Mobile & Marine Robotics Research Centre - University of Limerick
Multi-mode ROVs such as Latis can handle a wide variety of precision survey tasks; however size can limit operations such as inner-hull wreck survey. A miniature Flyout VideoRay daughter-ROV can greatly increase the potential success of underwater operations. Flyout-ROVs can access space-restricted regions far inside the interior of a wreck as well as areas outside the hull with tight space constraints (e.g. the scour of a ship wreck's hull). This technology also has the potential to become a key asset in many other operations including underwater pipeline surveys and ordnance disposal. The technology can also be easily adapted to operate within ocean observatories (buoyed or cabled). Observatory sensors indicate an event and the Flyout-ROV can complete a full investigation, with ~ 400m roving range.
The VideoRay Flyout-ROV from Latis concept is currently under development. Its first operational deployment is anticipated for September 2012 aboard the Irish research vessel RV Celtic Explorer. The research cruise takes a course to deep waters off County Donegal, known as the western approaches during World War II. The survey route has been designed to include wreck sites with historical and archaeological significance. Shipwrecks of up to 43,000 Tons and depths up to 160msw are investigated.

Wednesday October 24
9:00 - 9:45 am:
Shipwreck Remediation Assistance with a VideoRay (Salvage/Wreck Diving)
Steve Van Meter, Van Meter Consulting
When evaluating and remediating a shipwreck, the salvage, wreck removal, and maritime emergency response industry relies on the VideoRay. The author has worked closely with Titan Salvage and others in all phases of underwater observation in shipwrecks, and other industries where VideoRay is the predominant tool. His experience with recent wrecks such as Napoli and New Flame has allowed him to develop techniques to work with a host of challenging conditions – including inclement weather, rapid currents, and working on perilous areas of endangered ships. This talk will review a series of case studies, the results, and lessons learned in this fascinating challenge for VideoRay owners and operators.
Fast Track for ROV Flight Proficiency (Technology & Training)
Jason Hole, Florida State University Panama City
Over the past ten years, FSU has used the VideoRay ROV for education, training, research, investigations and other fieldwork. Through our activities in these areas, we have been able to develop an effective training methodology by addressing three components of training. First, a significant part is recognizing what characteristics and skills are needed for proficient pilots in general, identifying individuals with those traits, and tailoring instruction for those who do not. Second, we have developed an understanding of the variety of ROV applications and operational scenarios and the differing piloting techniques warranted in each. Finally, through teaching a wide variety of personnel – college students, military, law enforcement, and researchers – we have been able to see what does and doesn't work for a variety of users. This presentation explores these aspects of training and describes the methods that were met with success by instructing pilots.
--
10:00 - 10:45 am:
Inspections with VideoRay – O&G Rig Structure & Workboat UWILD Case (Offshore/Oil & Gas)
Steve Van Meter, Van Meter Consulting
VideoRay technology is very well suited to many inspection processes required by different aspects of offshore oil and gas exploration and production. The use of MicroROVs – mainly VideoRays – to inspect infrastructure is growing rapidly due to their low cost, highly portable and deployable nature, small size, and their ability to work in rough conditions and swift currents.
This presentation, given by an expert in the field, will demonstrate how VideoRay is used in two different missions. The first involves the use of VideoRay systems to perform Underwater Inspections in Lieu of Dry-dock (UWILD). This conducts inspections much faster and safer than human divers, with more detailed information for both the U.S. Coast Guard representative and Classification Society member, who can participate in the inspection as it occurs.
The second study demonstrates the use of VideoRay to inspect water intake screens on a Gulf of Mexico rig. This inspection provides detailed information on the condition and function of the intake without requiring shutdown or the danger and expense of human divers. In both cases successful mission planning, tools, techniques, tactics, and deliverables will be explained.
Integration of the Pro 4 in the Netherlands Navy (Law Enforcement/Port Security)
Niels Visser, Royal Netherlands Navy
The September 11th attacks led to a global heightened awareness of our vulnerability and increased homeland security measures over the last decade. However, the prevention of terrorism is rarely easy or obvious. The Royal Dutch Navy's defense dive group specializes in protecting the Netherlands' ports and waterways from underwater threats. Their search for new and better equipment led them to the Pro 4. They acquired a fleet of VideoRay systems in early 2012 and have been busy integrating the Pro 4 into their defense efforts.
This presentation will cover the reasons behind the Dutch Navy's decision to purchase VideoRays, its integration with other equipment already in use, how the Pro 4 assists law enforcement in Holland, and how they combine the work as a dive and EOD team with the Pro 4. It will also give a prognosis on the way ahead for the future in MCM operations.
--
11:00 - 11:45 am:
VideoRay HD TV Projects, Developments (ROV Technology & Training)
Brian Luzzi, VideoRay
As the world continues to push standard definition video aside for the beauty of high resolution, high quality High Definition video, VideoRay is pushing forward with its development of underwater HD cameras for the Pro 4 and future ROV platforms. In 2011 and 2012, VideoRay was involved with several high profile television projects which afforded the opportunity to test new HD camera configurations. Fully controllable fiber optic solutions in use now are paving the way for what will ultimately become the standard HD camera configurations in future products.
With such a diverse and easy platform for the delivery of a variety of external HD cameras, the VideoRay ROV user is not limited to a few resolutions and data formats. VideoRay has developed several HD configurations over the years ranging from cost-effective, compressed HD video recorded at the source to fully uncompressed fiber-optically transmitted video in just about every professional format available. High Definition video examples from several different cameras will be shown.
An ROV-Assisted Guidance System for Untrained Pilots (ROV Technology & Training)
Laura Sorbi, Università Politecnica delle Marche (UNIVPM)
Recent years have seen an increasing interest by the scientific community in the realization of minimally invasive technologies and tools for carrying out activities like exploration and intervention in the marine environment. This presentation will show the design and realization of a novel-assisted guidance system for a MicroROV for untrained pilots. This structure allows scientists like marine biologists, archaeologists, and oceanographers to operate the MicroROV directly, combining their knowledge of the application domain with the ability of professional ROV pilots. The system enables the MicroROV pilots to efficiently guide the vehicle thanks to a reactive force produced by an intelligent supervisor on the joystick. Generation of the reactive force is described, and the use of the assisted guidance system in performing underwater data gathering missions on Roman and Venetian archaeological sites is presented.