SEPTEMBER 25-27, 2013
San Diego, California, USA
VideoRay is pleased to announce the following presentation abstracts for VIPS 2013. Each seminar will consist of a 45 minute talk followed by a brief Q&A session. For more information and a brief presenter bio, please click on the presenter's name (italicized below the presentation title).

About VIPS Presentations
Each year, VideoRay compiles a variety of quality seminars that reflect the wide range of VIPS attendees' interests and needs. The VIPS 2013 roster of presenters includes experts in ROV technology as well as industries such as offshore, salvage, law enforcement, and science & research. Every presentation has been carefully selected to represent the latest advancements in MicroROV technology as well as the diversity of its capabilities and applications. We strive to offer a quality and worthwhile learning experience for all MicroROV users, whether you bought your first VideoRay a week ago or a decade ago.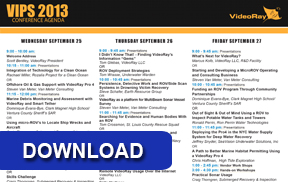 WEDNESDAY, SEPTEMBER 25th, 2013
9:00 - 10:00 am: Keynote Address (Scott Bentley - President, VideoRay LLC)
--
10:15 - 11:00 am:
Marine Debris - Awareness, Assessment, and Action Using ROV Technology (Environmental - Education)
Rachael Miller, Rozalia Project for a Clean Ocean & Dominique Evans-Bye, Clark Magnet High School/Ventura County Sheriff's SAR
Rachael Miller of Rozalia Project uses the VideoRay Pro 4 ROV, BlueView Multibeam Sonar, KCF Smart Tether Positioning System, Lyyn Video Enhancer, and Starfish Side Scan Sonar to find and remove marine debris. Sessions are held all over the country in a variety of venues including bays, rivers and lakes. This presentation will explore the techniques and methods Rachael and Rozalia's pilots developed and use to both locate and retrieve objects - from cigarettes, to derelict lobster traps to tires and more. Rachael and her team encounter a variety of piloting challenges including snag hazards, low visibility, high current, silt, large piles of debris, oversized debris, debris that is difficult to grab (because of shape or material) and even territorial sea creatures. Attendees will improve their own retrieval-based missions by learning how Rozalia's team handles these challenges.
This presentation builds on, rather than repeats, information presented by Rachael in the past and is relevant for anyone using the Pro 4 and sonar technology to find and retrieve objects on the seafloor.
Dominique Evans-Bye: Marine debris poses a serious threat to the environment - destroying habitat and killing marine life through entanglement and ingestion. A significant amount of trash generated each year finds its way into Los Angeles County waterways and coastal ocean. Volunteer clean-up efforts serve to raise awareness, but remove only a tiny fraction of what is a daily barrage of litter advancing on our coastline. The extent of damage deeper than recreational scuba diving limits is currently unknown.
Students at Clark Magnet High School choose an environmental issue and take action to improve the environment and/or their community. Community partnerships are formed to reach their goals. For this project, LA Waterkeeper collaborated with our school to design and implement a marine debris monitoring and assessment program. Students work with LA Waterkeeper to survey underwater habitats deeper than thirty meters with the VideoRay Pro 4 and Smart Tether system. The Smart Tether system integrates with GIS software to document the survey path taken by the ROV. Still photographs are taken with the ROV to create a 3D mosaic of affected areas using 123DCatch.
Students will raise awareness by creating public service announcements incorporating video, still photographs and spatial data from this project.
Offshore Support to Oil & Gas with VideoRay Pro 4 (Offshore Oil & Gas)
Steven Van Meter, Van Meter Consulting
The characteristics and capabilities of the VideoRay Pro 4 Observation ROV fit very well with several challenges in the Oil and Gas industry, including several recently created with new regulation. The author will present several case studies of recent project conducted with VideoRays and accessories. Included are training for inspection programs by users for various goals including meeting the requirements of the USEPA's Clean Water Act, providing high level security for an offshore facility in a high threat area of the middle east, and unique testing support for a new built vessel and crane system in Spain.
High quality video and photos are used to present each case study, as is techniques and approaches that worked well (and a few lessons on what does not.)
--
11:15 - 12:00 pm:
Innovative Tools for Underwater Site Documentation (Environmental - Education)
Laura Sorbi, Università Politecnica delle Marche
Documentation of underwater sites, and the development of innovative systems to be used by researchers has been knowing a great attention in all fields of study.
During last year, UNIVPM has continued developing a set of procedures and best practices for collecting data from underwater archaeological sites. In particular, the attention has been focused on the technological added value coming from an assisted guidance system for a MicroROV, designed and developed with the final aim of helping unskilled pilot in data gathering missions, thanks to the use of a force-feedback joystick.
This work has been improved with new cross-platform User Interface utilities thanks to the collaboration with VideoRay team.
At the same time, new technological solutions in order to visualize 2D and 3D live streaming videos from cameras mounted on Pro4 has been developing and improved.
Results coming from last year field missions will be shown and discussed.
ROV Deployment Strategies (ROV Technology & Training)
Tom Wrasse, Underwater Warden
Have you ever had a challenge deploying your ROV due to conditions beyond your control? Or deciding what is it that you need to bring or leave home? Whether it's dropping the ROV in from 3 stories above the surface of the water in high winds, to managing currents and rough seas to maintaining operation through aquatic vegetation, this presentation will cover several counter actions that can be taken to minimize the effects on the ROV. Tether management and proper rigging can improve a mission's success rate and ultimately provide customer satisfaction.
Deciding when and where to deploy a specific strategy requires taking into consideration the totality of circumstances.
Discussion on the Pros and Cons of using static lines, tether weight attachment placement, choosing the proper deployment location, piloting tips and tricks and special equipment needs will be covered. In addition some under ice operation will be included.
The presenter has experience in a multitude of different situations from inland lakes to offshore rigs and is anxious to share what he has learned in an effort to make your job that much easier.

THURSDAY, SEPTEMBER 26th, 2013
9:00 - 9:45 am:
VideoRay as a Platform for MultiBeam Sonar Vessel Survey (Military, Law Enforcement, Offshore, Vessel Inspection)
Steven Van Meter, Van Meter Consulting
The combination of the VideoRay Pro 4 ROV and BlueView P900 multibeam sonar creates a powerful tool. This configuration can locate and survey fairly large areas with powerful thrusters and sonar, yet is very portable, is small enough to reach confined spaces, and can be deployed rapidly in challenging locations and rough sea states. The author uses this combination to conduct surveys of a wide variety of vessels in poor visibility with severe deployment constraints.
Several case studies will be presented including hull condition surveys of US Navy Ready Reserve Cargo Vessels, investigation of workboat sinking in Mexico and a bulk cargo ship salvage survey in Peru. High quality video and photos will be displayed in each case study, showing how the VideoRay/BlueView combination was employed to obtain extensive valuable information.
Integrating VideoRay ROVs into Any Family of Systems for Military Goals (ROV Business)
Niels Visser, Master Diver EOD Royal Dutch Navy
There is an ongoing need to conduct underwater search. For military goals the information on Q-routes, piers, waterways, ports etc throughout the world needs to be analyzed in total to be able to conduct operations as safe as possible and to "take the man out of the mine field" as a higher goal. Fusing information from all sensors is one of the key components to achieve that goal. There is no current standardized UUV "family of systems" which allows a common interface with geographic information system (GIS) software to leverage the search capability of AUVs, Side Scan Sonars, and diver data.
Location, marking, and plotting underwater objects is important to visualize information that is quickly understood and easily shared for areas having significant military or economic importance.-Naval Mine Warfare is embracing remotely operated sensors and Unmanned Underwater Vehicle (UUV) systems as opposed to surface ships and divers in mine clearing operations. The use of a standardized common operator interface software can mitigate this gap and allow Naval Mine Warfare to analyze and display all underwater and airborne sensors, and integrate data from VideoRay ROVs with global command and control systems to ensure the freedom of maneuver for joint forces and partner nations in the maritime operational environment.
This presentation will give an insight on how the Royal Netherlands Navy is trying to achieve these goals. As the development of software and hardware is evolving we are part of this developments and conduct our own studies on ATR, Seafloor identification, autonomy and the training of personnel. As the Video Ray ROV's are getting more and more adjustable to military needs (e.g. remote demolition) on the hardware part, the software side is as important as well to blend everything together and to make a "custom family of systems" possible.
--
10:00 - 10:45 am:
Persistence, Detective Work and ROV/Side Scan Systems in Drowning Victim Recovery (Law Enforcement - SAR)
Steve Schafer, Earth Resource Group
Air Force airman Antonio Tucker drowns in Lake Mead in June of 2012. Almost one year later his body was successfully recovered by a team lead by the author, using a VideoRay Pro 4 ROV with a homemade grappling tool. This recovery met with several difficulties – from the location and depth of the victim, to problems with the tools employed, to roadblocks that were entirely due to governmental agencies unfamiliar with the appropriate tools and techniques to accomplish a safe recovery.
Lessons learned involved both techniques and procedures, and the need for persistence in countering forces that needed constant and continuous effort over an extended period of time to overcome.
VideoRay Modifications for Localization and Mapping
Christopher Clark, Harvey Mudd College - Lab for Autonomous and Intelligent Robotics (LAIR)

For the past 5 years, students and faculty from the Lab for Autonomous and Intelligent Robotics have been using the VideoRay ROV as a test piece for a variety of new robotics developments experiments. In the past year, our team has developed a number of novel hardware and software modifications with the goal of improving ROV localization and mapping. This presentation will provide details on 1) flodometry - a new flow meter based odometry model that predicts the ROV location for small scale movements, 2) a ROS based command and control GUI, 3) development of a tilt mechanism for the SeaSprite sonar to enable 3D mapping, and 4) our latest mapping algorithm developments. These developments will be described within the context of our multi-year Malta cistern mapping project, which involves using the ROV to explore and map ancient underwater tunnels located below archeological sites in Malta.
--
11:00 - 11:45 am:
Searching for Evidence and Human Bodies with an ROV (Law Enforcement - SAR)
Tom Crossmon, St. Louis County Sheriff's Rescue Squad
This presentation will cover case studies of how the St. Louis County Rescue Squad has located and recovered human bodies using a VideoRay/Multi Beam Sonar along with Side Scan Sonar and Sector Scan Sonar. This Rescue squad has been using VideoRay ROVs for over ten years now.
Case studies will involve the entire process of body search and recover, including wide area searching during the open water season, wide area searching under the ice and detailed searching in dark water.
The author will also cover how to recover bodies using just an ROV, as well as working with divers to make a recovery. You will also learn how to best navigate a search through the ice, and how to know that you have had good coverage of a given area.
Other topics will involve assisting crime scene investigators in evidence imaging, recovery, and preservation.
The Search, Monitoring, Identification, and Fusing of Underwater Information (Military)
Mark Fleming, VideoRay LLC, United Sates Navy EOD (Ret.)
There is an urgent need to conduct the underwater search, monitoring, object identification, and fusing of information on Q-routes, piers, and vessels in commercial ports and waterways throughout the world. The primary objective is the safe identification of Mines, Water Borne Improvised Explosive Devices (WBIEDs) and Underwater Hazardous Devices (UHDs). There is no current standardized UUV "family of systems" which allows a common interface with geographic information system (GIS) software to leverage the search capability of AUVs, Side Scan Sonars, and diver data to locate, mark, and plot underwater objects to visualize information that is quickly understood and easily shared for areas having significant military or economic importance.
Naval Mine Warfare is embracing remotely operated sensors and Unmanned Underwater Vehicle (UUV) systems as opposed to divers and Marine Mammal Systems (MMS) in mine clearing operations. The use of Remote Operated Vehicles (ROVs) can mitigate this gap and help Naval Mine Warfare transition to an agile, scalable capability that is not tied to dedicated platforms, with the ultimate goal of removing the man from the minefield by the use of unmanned vehicles to allow the freedom of maneuver for joint forces, federal agencies, and partner nations in the maritime operating environment.

FRIDAY, SEPTEMBER 27th, 2013
9:00 - 9:45 am:
What's Next for VideoRay? (ROV Technology / Research & Development)
Marcus Kolb, VideoRay LLC, Research & Development
It has been a few years since the Pro 4 ROV was introduced. It now dominates the market for inspection class ROVs worldwide, likely selling more than all its competitors combined. When you make the product that the market recognizes as the best by far, what is next? The answer is to keep what users like about the product while extending capabilities to do jobs that even the Pro 4 cannot currently accomplish.
With a blank slate to start with and no need to re-use old parts and techniques, a truly revolutionary product is possible. We're sure our users, partners, and even competitors will agree that the next thing is stepping up to a whole new level of performance. This presentation will reveal publicly, for the first time, the form, functionality, and specifications for the next great development in compact ROVs.
Starting and Developing a MicroROV Operating and Consulting Business (ROV Business)
Steven Van Meter, Van Meter Consulting

With over 600 missions around the world, SVM Consulting is the most successful business of its kind. Steve's talents are in such demand that his clients pay a premium for his unique experience, allowing Steve to pick and choose jobs that are particularly interesting or challenging. In this presentation, Steve will discuss the practical aspects of starting this new type of business, from his experiences and hard-earned lessons. He will discuss business cards, contracts, contacts, pricing, insurance, marketing, sales, and important things to do, avoid, and keep in mind.
Important lessons will be illustrated with examples and case studies, and Steve will answer questions and give invaluable advice afterwards (or at any time he's available during the conference.)
--
10:00 - 10:45 am:
Funding an ROV Program Through Community Partnerships (Education)
Dominique Evans-Bye, Clark Magnet High School/Ventura County Sheriff's SAR
Sharing the costs of an ROV with a partner organization is a viable strategy to acquire equipment and maintain operational proficiency. Clark Magnet High School owns and operates a VideoRay Pro 4 ROV that is shared with the Ventura County Sheriff's Department. Forming this partnership was crucial to obtaining the initial grant to purchase the ROV, and instrumental in getting Search and Rescue access to equipment each organization could not afford otherwise.
This presentation will detail the partnership between the Ventura County Sheriff's Department and Clark Magnet High School, and the mutual benefits of sharing a VideoRay ROV. At the high school, students are trained to operate the ROV for marine research projects. Successful student projects have provided additional funding to maintain and expand the program. The Ventura County Sheriff's Department uses the ROV for underwater search and recovery operations. Spatial data from underwater search operations are shared with Clark Magnet students in the geographic information program for mapping and analysis. Creating mutually beneficial community partnerships and creative ways of obtaining funding will be discussed.
Using micro-ROVs to Penetrate Ship Wrecks and Subsea Structure: Challenges with Current and Entanglement (Search & Recovery)
Dave Phillips, St Louis County, MN, Undersheriff and ROV/Sonar Consultant & Trainer

Whether penetrating a shipwreck or large structures underwater, there are many challenges that an ROV operator may face. Dave Phillips shares his experiences with wrecks and structures and how to control some of the "uncontrollable" factors such as sea current, visibility, and entanglement hazards. Tricks for navigating and operating an ROV from a boat held at station (no anchor), and how to overcome the inevitable heavy currents that one may encounter on an operation. In addition to numerous drowning recovery operations, Dave has done three expeditions to the USS Houston in Indonesia, a ferry accident in the Philippines, and has been involved with water searches for evidence , drowning victims, and aircraft.
11:00 - 11:45 am:
Deploying the Pro4 in the NYC Water Supply System for Deep Water Recovery (Salvage / Recovery)
Jeffrey Snyder, SeaVision Underwater Solutions, Inc
In late December 2011, a dewatering pump deployed in Shaft 25 of the New Croton Aqueduct in New York City failed catastrophically. The pump failure resulted in the loss of 900 pounds of pump, 150-feet cable, and 120-feet discharge pipe to the bottom of the 400-ft shaft.
Due to the sensitive nature of the Shaft as a critical component to a potable water supply system, the contractor and the municipal agency recognized the need to effect the removal of the pump from the Shaft. The contractor contacted SeaVision Underwater Solutions, Inc. to assess the situation. After collaborating with the prime contractor regarding the site conditions, load requirements, and likely underwater conditions, SeaVision determined that the VideoRay Pro4 could not only perform the inspection but also effect the pump recovery.
SeaVision successfully collaborated with the site personnel to recover all of the dewatering pipe, power cable, and pump by coordinating the deployment of the VideoRay Pro4 with unique recovery tools and the safe, expert activities of surface rigging personnel and engineers. SeaVision's Pro4, combined with custom-designed tooling, proved to be a safe, cost-effective system that, when wielded by SeaVision personnel effectively completed a complicated intervention activity in a deep, confined space.
A Path to Better Marine Habitat Permitting Using a VideoRay Pro 4 (Environmental)
Chris Hoffman, High Tide Exploration
The placement of fill material in marine waters is regulated by the U.S. Army Corps of Engineers and federal agency coordination is required with the U.S. Fish and Wildlife Service as well as the National Marine Fisheries Service. While there is a well defined methodology for permitting fill into wetlands, the marine fill permit decision process is highly variable and can be over or under protective for the habitat involved.
In many cases, decisions are made on supposition or superstition rather than actual data, both in terms of the initial permit and any long term monitoring that might be required as a permit stipulation. Surveying marine habitat with an ROV allows for excellent survey data in a cost effective manner, especially when the site is in a remote location or involves deep water disposal of dredged material below typical SCUBA depths. The camera and lighting on the VideoRay Pro 4 has proven essential for marine habitat surveys in conditions where divers were unable to effectively operate.