SEPTEMBER 25-27, 2013
San Diego, California USA
VideoRay is pleased to announce the following workshops for VIPS 2013. Workshops will be held from 3:00 - 4:30 pm each day.

About VIPS Workshops
The tremendous success of VIPS each year is largely due to the afternoon hands-on user workshops. This is not the time for classroom presentation or PowerPoint presentations. This is in-the-field, real-life simulation, tips, tricks, and skill development instructed by professional VideoRay ROV users from industries such as offshore, salvage, law enforcement, and science & research. Every workshop has been carefully selected to represent the latest advancements in MicroROV technology as well as the diversity of its capabilities and applications. We strive to offer a quality and worthwhile learning experience for all MicroROV users, whether you bought your first VideoRay a week ago or a decade ago.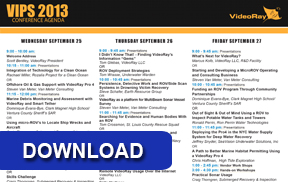 WEDNESDAY, SEPTEMBER 25th, 2013
New User Workshop & Pro 4 Problem Prevention and Part Replacement
Rachael Miller, Rozalia Project for a Clean Ocean
Brett Kolb, Quality Control Manager, VideoRay LLC
The workshop will begin with a 15 minute interactive orientation to the Pro 4 starting at the beginning. Power requirements, ROV set up, pre-dive checks, deployment, tether handling, basic piloting and navigation, retrieval, post-dive procedures, basic mission planning and ROV storage will all be covered during this orientation. The next 60 minutes will be split into two sections. 30 minutes will be devoted to hands-on operation of the Pro 4s in the pool, with supervision and guidance. Participants not piloting will be active as tether handlers and co-pilots/observers.
Another 30 minutes will be devoted to preventative maintenance, and the removal and replacement of the most commonly damaged or worn-out parts – props, cartridge seals, and light cones. At the conclusion of this workshop, participants will have the necessary background to begin using their Pro 4 systems. They will be able to avoid mistakes experienced by those who start using their systems without guidance (or reading the manual.)
Rigging for Success
Steven Van Meter, Van Meter Consulting
This workshop will benefit both beginner and experienced users in achieving the best results with their VideoRay system in challenging conditions of current, depth and in high risk operations. Using methods and techniques that have been proven successful around the world in a full range of missions, basic rigging and deployment methods will be demonstrated.

THURSDAY, SEPTEMBER 26th, 2013
Practical Sonar Usage
Steven Van Meter, Van Meter Consulting
There are several different sonar systems available for use on a VideoRay – scanning sonars, multibeam sonars, and specialty devices such as altimeters. They are provided by two major vendors and a host of secondary vendors. Each has a different size, performance attributes, price, and devices that might be used together. Most can be added to existing VideoRay Pro systems. Attendees will learn the basics of how to choose, set up and operate each major sonar systems available on the Pro4 ROV. They will be able to look at the same target using different sonar systems to get an understanding of what will work best for them when they are choosing sonar accessories for the VideoRay submersible.
Practical Guide to Drowning Victim Search
Tom Crossmon, Captain - St. Louis County Rescue Squad
One of the most common and valuable uses of a VideoRay system for a first responder team is searching for drowning victims. This sad task involves almost every team at some time, and this is a unique opportunity for VIPS attendees to learn from the St. Louis County Sheriff's Volunteer Rescue Squad, who have conducted far more searches than any other – most in support of other units in their region.
The workshop will involve a dry-run of an actual search, including interviewing witnesses, controlling crowds and media, coordinating resources across agencies, setting up a grid, and actually finding a manikin. Best practices will be emphasized, and common mistakes will be pointed out so they can be avoided. In particular, the best way to interview witnesses, as well as drowning victim behavior and physiology will be discussed so your squad can achieve success as rapidly as possible.

FRIDAY, SEPTEMBER 27th, 2013
Remote VideoRay Usage Over the Internet
Tom Glebas, VideoRay LLC
While most VideoRay operations are conducted within sight of the ROV, there is a growing demand for truly remote operations. Several sites have already been set up to implement Internet-based remote operations. Examples include educational sites that allow remote students to experience otherwise inaccessible locations, and oil field monitoring sites that provide cost efficiencies by allowing the ROV pilot to work multiple sites from one on-shore operating location. This workshop will provide an overview of the different technological implementations and pros and cons of each, and then be followed by a demonstration period where attendees will be able to access and operate VideoRays at these remote installations scattered around the world.
2D and 3D Tools for Underwater Live Streaming Videos
Laura Sorbi, Università Politecnica delle Marche
This workshop will show VideoRay research improvements, in both prototype and product mode, developed by the Università Politecnica delle Marche in Ancona, Italy. One project is the development of a force-feedback joysticks to keep your ROV on track. Users can test the joystick and feel the difference from the conventional one. A second project involves 3D live streaming videos coming from external cameras mounted on VideoRay ROV, to give the operator a unique sense of depth. Users will be able to control these cameras using a specific user interface developed by the presenter and her team.
The workshop will be organized in simultaneous sessions involving two or three participants each, totaling 90 minutes. Other participants can assist.
Participants will gain a complete understanding of piloting the ROV helped by real time videos, and the possibility of monitoring underwater sites in a more realistic way through the use of 3D vision.