Andrew Goldstein
Director of Software Engineering, VideoRay LLC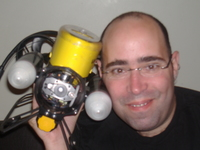 Andrew Goldstein is the director of software engineering at VideoRay LLC. and the manager of the University Developer program. Before VideoRay, he was chief software developer and part owner of Desert Star Systems. He has been the lead software developer on over 18 commercial products, two of which have garnered R&D 100 awards.
Andrew holds degrees in Materials Science Engineering and Computer Science.

VIPS 2012 Presentation: More Tools for MicroROV Navigation (Monday 10:15 - 11:00 am)