Rachael Miller
Co-founder/Director, Rozalia Project for a Clean Ocean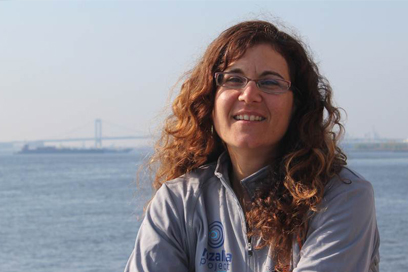 Rachael Miller is the co-founder and director of Rozalia Project for a Clean Ocean, whose mission is to find and remove marine debris through action, technology, outreach and research. She is also the co-captain of Rozalia Project's trash-hunting mothership, American Promise (a Ted Hood 60' sailing research vessel). Rachael established the first public access, ROV-supported shipwreck tour in North America and is a trainer for VideoRay training remotely operated vehicle (ROV) pilots. She is the primary ROV pilot and technician for the Rozalia Project and travels throughout the U.S. with the ROV/sonar delivering marine debris programs and cleaning harbors.
Though dedicated to a clean ocean, she lives with her husband and 2 Newfoundlands in the mountains of Vermont.

VIPS 2013 presentation:
Marine Debris - Awareness, Assessment, and Action Using ROV Technology
(Wednesday 10:15-11:00 am)
Previous VIPS Presentations
2012: Underwater Technology for a Clean Ocean
2011: Integration of Technology to Locate and Remove Marine Debris
New User Workshop
2009: Shipwrecks - History and Technology Coming Together
New User Classroom Session/Hands-on Workshop
2008: Lake Champlain Shipwreck Tours - Tips & Tricks
2007: Shipwreck Exploration - Tips & Tricks