David Scaradozzi
Assistant Professor, Università Politecnica delle Marche (UNIVPM)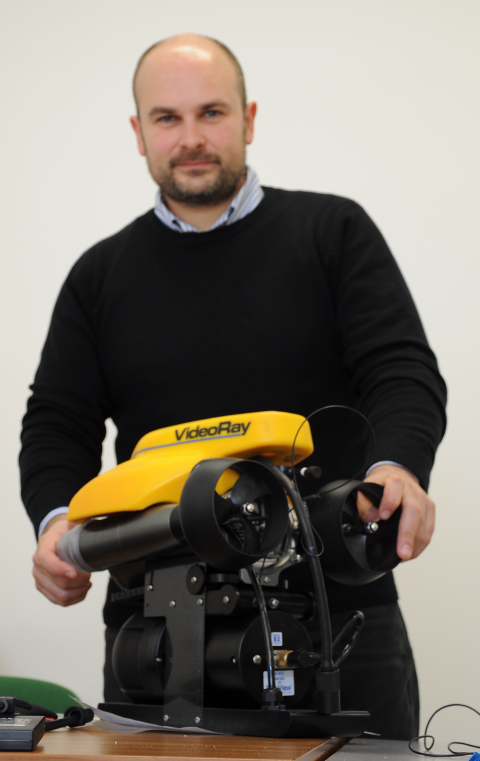 David Scaradozzi is currently an assistant professor at the Dipartimento di Ingegneria dell'Informazione (DII) - Università Politecnica delle Marche. After receiving his Ph.D. in Artificial Intelligent Systems, he worked at Indesit Company and the Inter-University Center of Integrated Systems for Marine Environment (ISME) as a senior scientist. He has been involved in different research projects funded by the European Economic Community; in particular, he was the technical manager in VENUS FP77 European Project, tasked with developing and performing acceptance tests of Italian vehicles.
His research activities are in robotics and automation, with special interest devoted to motion-planning and interaction control problems in distributed agents, rapid prototyping, mechatronics and home automation. During the last year, he has conducted the scientific documentation of sea operative surveys for archaeological sites study using ROVs and other technological devices, such as the four-year work on the "Dolia" Roman shipwreck of Marciana Marina – Elba Island (Italy) founded by MIBAC (Ministere dei Beni e delle Attività Culturali), and the archaeological site study in Kolocep – Dubrovnik (Croatia) collaborating with the University of Zadar, partially founded by UNESCO.

VIPS 2012 Presentation: Tools & Techniques for 3D Documentation of Underwater Sites (Tuesday 10:00-10:45 am)