Steve Schafer
Earth Resources Group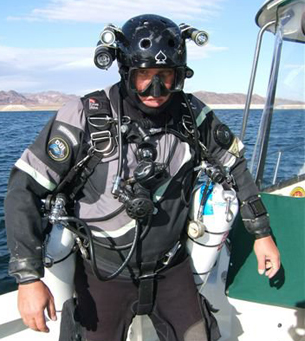 Mr. Steve Schafer is a principal of Earth Resource Group – Marine Division. ERG Marine uses the VideoRay Pro 4, KCF Smart Tether and Blue View Sonar to support deep diving and salvage activities, and for conducting underwater search and recovery operations. His background includes extensive training and experience in a variety of technical diving systems. He is a technical diving instructor trainer with the International Association of Nitrox and Technical Divers and enjoys closed circuit rebreather cave diving in Florida and the Bahamas as well as exploring the deepest depths of Lake Mead.
Mr. Schafer received his M.S. in Petroleum Engineering from the New Mexico Institute of Mining and Technology as well as an Associate's Degree in Petroleum Technology from the Southern Alberta Institute of Technology.

VIPS 2013 Presentations:
Persistence, Detective Work and ROV/Side Scan Systems in Drowning Victim Recovery
(Thursday 10:00-10:45pm)