Christopher Clark, Ph.D.
Director, Lab for Autonomous and Intelligent Robotics (LAIR)
Associate Professor, Harvey Mudd College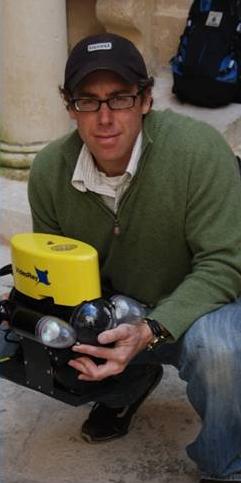 Dr. Christopher M. Clark is currently an Associate Professor at Harvey Mudd College where he directs the Lab for Autonomous and Intelligent Robotics (LAIR). In 2011-2012, he served at Princeton University as the William R. Kenan, Jr. Visiting Professorship for Distinguished Teaching. From 2004-2011, he held faculty positions at the University of Waterloo, Canada, and California Polytechnic State University. He has also held a Control Systems Designer position at Sterner Automation, and acted as a consultant (software architect) for company Kiva Systems, whose multi-robot systems are changing the warehouse distribution industry.
His education includes an undergraduate degree in Engineering Physics (1995) from Queen's University, Canada. He graduated in 1998 with an M.S. in Mechanical Engineering from the University of Toronto. In 2004 he completed his Ph.D. in Aeronautics & Astronautics with a minor in Computer Science at Stanford University.
Dr. Clark's research includes work in multi-robot systems, underwater robotics, motion planning, control theory as applied to robotics, robot mapping, and localization. His most recent work includes field deployments of Autonomous Underwater Vehicles (AUVs) and Remotely Operated Vehicles (ROVs) at remote sites to aid scientists from marine
biology, archeology, and oceanography. His teaching and research has received many awards, notably the CFA Distinguished Educator's award

VIPS 2013 Presentation: VideoRay Modifications for Localization and Mapping (Thursday 10:00-11:00 am)