Versatile, reliable and durable ROV
technology
Modular Design, Unlimited Possibilities

VideoRay Mission Specialist Series vehicles are designed and built with flexibility in mind. The modular design enables easy maintenance and seamless integration with a variety of tools for a custom solution to your underwater challenges.
Common Wind Energy Production applications:
Wind turbine installations
Wind turbine offshore inspections
Tidal energy recovery
Tidal energy installation and inspections
ROV Systems for Wind Energy Production
Renewable energy such as wind and solar is on the rise. Notably, offshore wind farms are growing at a rate of roughly 30% per year and have become a significant part of Northern Europe's power generation. Offshore wind farms are seen as an environmentally sustainable alternative to energy derived from fossil fuels; however, in order for them to continue to be a cost-effective solution, maintenance costs must be minimized. VideoRay's Mission Specialist series ROVs are a reliable and efficient solution to help reduce the costs of maintaining offshore wind farms. Mission Specialist submersibles are able to perform thorough and effective underwater inspections without the need for human divers.
Mission Specialist Defender
The Defender ROV configuration is designed for greater control of the vehicle position and supporting heavier payloads. The addition of third-party software makes the Defender a popular configuration for harsh environments and stronger currents.
The Pro 5 is designed to handle missions with size, space, weight and deployment speed constraints. It builds on the strengths of the Pro 4 but adds more thrust, longer tether lengths, higher-resolution video and the advantage of the Mission Specialist modular systems.
Engineered for
Wind Energy Production
"VideoRay ROVs are the best robots in the world.
They are robust and of a very high quality.
We think it's the best of its kind."
"Our team works offshore on export-cable repair and installation in UK waters.
VideoRay ROV's have consistently exceeded our expectations."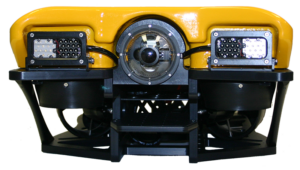 Take your missions to
NEW DEPTHS.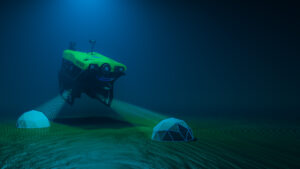 VideoRay has long been recognized as a trailblazer in the ROV (Remotely Operated Vehicle) industry, delivering cutting-edge underwater robotics technology to a global customer base. The new Mission Specialist systems take inspection-class robots to a new level, delivering the power and functionality expected from larger, more expensive systems in a modular, one-man-deployable footprint, significantly reducing operational costs while streamlining logistics.
Read More

Fill out the form below and a sales representative will be in touch with you soon.