Water Management Inspection ROVs
Versatile, reliable and durable ROV
technology
Modular Design, Unlimited Possibilities VideoRay Mission Specialist Series vehicles are designed and built with flexibility in mind. The modular design enables easy maintenance and seamless integration with a variety of tools for a custom solution to your underwater challenges.
Common Water Management applications:
Portable Water Tank Inspection
Reservoir Inspection
ROV Systems for Water Management
Regular inspections of potable water tanks and reservoirs are crucial to maintaining clean, safe water sources for the public. However, tanks and underwater infrastructure create an environment that poses a serious risk to divers and is often inaccessible to larger equipment. Combined with the waning budgets of public agencies and water districts, these obstacles can prohibit proper maintenance of essential infrastructure. With VideoRay ROVs, keeping the public safe – and hydrated – is simpler and safer than ever.
VideoRay ROVs reduce the risks, costs, and time involved with regular inspections of water tanks, reservoirs, and conservation districts. VideoRay's small size means it can penetrate areas where human divers cannot go safely to inspect for leaks, sediment level, coating condition, and to assess the general condition of the tank. Thanks to VideoRay's small footprint, workers can easily fit the submersible in a backpack to carry it up a tank ladder or reel it back above water with a rope.
Besides the benefits of accessibility and portability, VideoRay ROVs and software are also incredibly user-friendly. With a day or two of training, operators quickly learn how to deploy and navigate the ROV around obstructions in the tank. High quality video or still images are captured, stored, and transmitted with just the click of a button.
VideoRay ROVs can be equipped with up to 457 m (1,500 ft) of tether along with a variety of other optional tools such as the manipulator arm or the crawler. All accessories are "plug and play" – with a simple software upgrade or a quick hardware add-on, the VideoRay and its accessories can be ready to go in minutes.
Mission Specialist Defender
The Defender ROV configuration is designed for greater control of the vehicle position and supporting heavier payloads. The addition of third-party software makes the Defender a popular configuration for harsh environments and stronger currents.
The Pro 5 is designed to handle missions with size, space, weight and deployment speed constraints. It builds on the strengths of the Pro 4 but adds more thrust, longer tether lengths, higher-resolution video and the advantage of the Mission SpecialistS modular systems.
Engineered for
Water Management
"VideoRay ROVs are the best robots in the world.
They are robust and of a very high quality.
We think it's the best of its kind."
"Our team works offshore on export-cable repair and installation in UK waters.
VideoRay ROV's have consistently exceeded our expectations."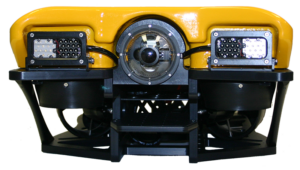 Take your missions to
NEW DEPTHS.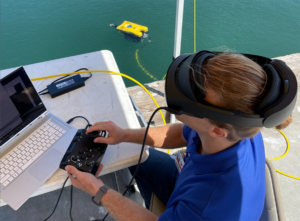 VideoRay, the producer of the Mission Specialist Defender robot recently selected by the US Navy for underwater mine detection and disposal, announced today that it has successfully acquired Blue Ring Imaging, a St. Petersburg, Florida-based innovator in 3D visualization, multi-view perception, and simulation for unmanned systems.
Read More

Fill out the form below and a sales representative will be in touch with you soon.