Collaborative Partnerships Continue to Drive Innovation in 2023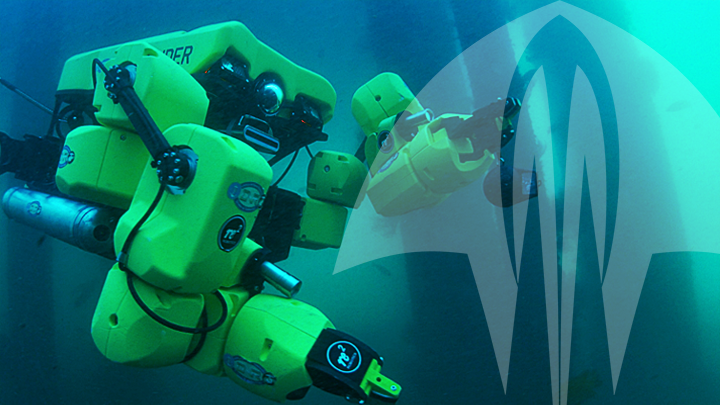 "Collaboration equals innovation."
–Michael Dell
We couldn't agree more.
Through collaboration with other industry leaders and visionaries, VideoRay has developed
new capabilities for underwater robotic systems that help customers overcome challenging problems. In 2023 we will continue to work closely with strategic partners on technology initiatives and product enhancements that continue to push the envelope of where one-person portable remotely operated vehicles can operate and the tasks they can accomplish.
Point Cloud Modeling
Point cloud modeling will change how underwater inspections are conducted by providing operators with better, more detailed deliverables – quickly. To achieve these goals, the ROV and sensor payload are maneuvered around an object, generating a 3D point cloud model of a subsea object or environment. The sensor payload could be a camera, stereo camera, laser, structured light, sonar, or a combination of technologies. Even in poor visibility, 3D point cloud models generated by sonar provide operators with valuable, precise information and data. These models also enable operators to continue their inspection after the mission and even perform measurements.
VideoRay is partnering with Vaarst, Numurus, Voyis, EIVA, and Coda Octopus to advance point cloud modeling capabilities.
Perception Autonomy
Perception technology saves time and money by locating and identifying objects sooner, and more accurately, than human operators using AI-powered object recognition to detect and classify objects of interest. Automatic Target Recognition uses sensor inputs to detect and determine the size and distance of objects allowing for classification and identification. Forward Look Sonar can be mosaiced into a continuous geolocated, or ship hull-referenced map. The same technologies used in point cloud modeling and perception, with simultaneous localization and mapping, can be used to autonomously control the robot's thrusters to capture data. Sensor data is used to help the system better understand and react to its environment. Applications for perception autonomy technology in defense, offshore oil and gas, renewables inspection, aquaculture, and more include both navigation tasks and complex intervention tasks such as cleaning and manipulation. 
Collaboration partners include Vaarst, Numurus, Voyis, Nauticus, Greensea, and Sarcos.
Distance Deployment
Traditional operation requires an underwater robotic system to be operated from the deployment site. This can be dangerous for the operator in hazardous environments, such as a minefield. Distance deployment enables the robot to be operated from a far away, convenient location, using a communication stream such as radiofrequency, acoustic modem, Wi-Fi, or even satellite. Particularly useful in the defense, offshore, and nuclear markets, distance deployment is critical when moving to semi-autonomous and fully autonomous systems. 
VideoRay is collaborating with the U.S. Navy, U.K. Navy, Greensea, and OceanComm to develop distance deployment solutions.
About VideoRay
VideoRay Mission Specialist Underwater Robotic Systems have redefined the "inspection class" category. Much more than underwater cameras, they are ready to perform critical jobs in the harshest environments. VideoRay systems deliver industry leading power and maneuverability, enabling operations in currents up to four knots.
The durable modular platform is built to handle heavy payloads and a wide array of sensors and tooling. And they can operate at significant depths for hours, days or even months at a time. Mission Specialist robots are rugged enough to work anywhere, handling tough jobs and applications. They are used around the world in demanding underwater missions to support national security, first responders, object search and recovery, infrastructure examination and science and research.
Mission Specialist systems are designed to support the safety of divers and reduce or eliminate dive time in hazardous conditions. They pack the power and functionality you expect from larger, more expensive systems into a form factor that is sized just right. Portable and one-man deployable, they significantly reduce your costs while streamlining logistics.