U.S. Navy Standardizes on VideoRay Defender With Large 2022 Order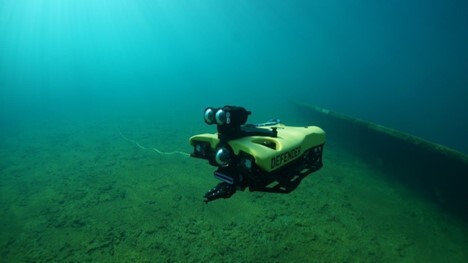 Will bring the U.S. Government Maritime Expeditionary Response Fleet to over 100, with additional artificial intelligence and mine countermeasure capabilities to be added
POTTSTOWN, Pa., August 17, 2022 – VideoRay, LLC, today announced a large and diverse order for its Defender remotely operated vehicles (ROVs) by the U.S. Navy. The Navy is standardizing on VideoRay Defender Mission Specialist systems due to superior capabilities, flexibility and upgradability of the large number of systems deployed since 2019. VideoRay's customer support of the Navy includes training facilities and staffing on the East Coast in Pottstown, Pennsylvania, and the West Coast in San Diego.
The Navy has praised VideoRay for the ease with which ROV systems can be repaired in the field and the wide range of videos and other ROV training aids to ensure operational availability of the systems. All the components of a Defender ROV are modular and are designed to be easily swapped out by warfighters in the field.
Recent new capabilities for Defender systems are evolving rapidly due to close cooperation testing and development between VideoRay, its component manufacturers and several units of the Navy. These include the ability to autonomously identify and defeat underwater mines and perform other tasks with minimal or no active user input. Defender units now can go deeper, can be equipped with batteries and lightweight splash-proof controllers and communicate without tethers over long distances underwater. Among those working with the Defender platform are:
Greensea Systems of Richmond, Vermont, USA – greensea.com
Blueprint Subsea of Ulverston, Cumbria, United Kingdom –blueprintsubsea.com
Nortek of Rud, Norway – nortekgroup.com
Eddyfi of Nanaimo, British Columbia, Canada – eddyfi.com
Zero Point of Virginia Beach, Virginia, USA – zeropointusa.com
Tetac, Monterey, California, USA – tetacinc.com
Nauticus Robotics of Webster, Texas, USA – nauticusrobotics.com
Sarcos/RE2 of Pittsburgh, Pennsylvania, USA – sarcos.com
OceanComm of Chicago, Illinois, USA – oceancomm.co
More than 25 Small Business Innovation Research (SBIR) and Small Business Technology Transfer (STTR) projects using Mission Specialist technology
According to Mark Fleming, VideoRay VP of defense and government, "We've worked very hard with our U.S. government and commercial partners to expand the missions that can be accomplished with a man-portable remotely operated vehicle. I'm proud of how everyone is coalescing on a single platform with many configurations and missions."
Marcus Kolb, VideoRay's chief technology officer, added, "I'm proud to lead the engineering of future naval capabilities—proving we can do real work at one kilometer of depth, acoustically transceive video and telemetry data through one kilometer of open ocean, and find and neutralize mines autonomously. We designed the Defender system to be powerful, open and flexible so it could handle large payloads, instruments and tools—many of which hadn't been conceived when we designed the platform. We are delighted to see how well the Defender systems have been working with larger, more complex payloads and missions than we had initially envisioned."
In addition to the U.S. Navy, VideoRay has delivered or has firm orders from 20 other navies and coast guards from allied nations. As a result of these orders and commercial orders, VideoRay expects revenue in 2022 to be roughly double that of 2021 and is in the process of building up its manufacturing capacity to meet this ramped-up demand.
For information about VideoRay's Mission Specialist Defender ROV system, visit: https://videoray.com/products/mission-specialist-defender/.
About VideoRay
Delivering its first ROV system in 2000, VideoRay has annual revenue exceeding $30 million and is the world's leading manufacturer of underwater, portable, inspection-class ROVs. VideoRay underwater robots help prevent terrorism, find and retrieve objects, inspect infrastructure both inland and offshore, and keep divers safe from hazardous conditions. Operators prefer VideoRay systems because they are optimized for intuitive operation, performance, size, weight, payload and deployment speed. To learn more about VideoRay, visit videoray.com or call +1 610-458-3000.
# # #
Media Contact
Lisa Goetz
Schubert b2b
lgoetz@schubertb2b.com
610-269-2100 x244