VideoRay Pro 4 Remotely Operated Vehicle
The world's most popular small ROV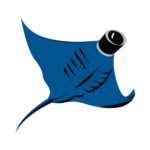 The VideoRay Pro 4 is one of the most advanced, capable, and versatile small ROVs on the market today. Completely computer-driven by VideoRay Cockpit, a sleek, intuitive, and powerful software platform, the Pro 4 is the most advanced ROV in its class. Its advanced technology and software platform makes it easy to incorporate advanced features such as vehicle autonomous control, the latest imaging sonar, upgraded positioning hardware and software as well as other sensors and tools. Capabilities can be added or removed with either a simple software update or a quick hardware add-on in the field—all without sending the system back to the factory.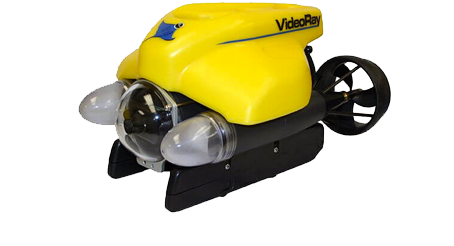 The Pro 4 offers features designed to simplify piloting and give advance warning in the case of an issue with the vehicle. These features include:
3D tilt compensated compass
Accelerometer
MEMission Specialist Gyro
Leak alarm
Internal temperature gauge
Real-time voltmeter
Depth sensor
The VideoRay Pro 4 main wide dynamic range color camera is located in the forward pressure hull of the ROV. The forward camera tilts vertically 160º – within the range of the LED lighting so every subject is illuminated no matter where it is viewed from. The camera offers a standard definition image at roughly 570 lines of resolution as well as wide dynamic range and backlight compensation to give you the most detailed pictures even in difficult lighting situations. The camera is optimized for underwater use and offers 0.004 lux low-light sensitivity by including automatic or manual switching between color and black and white modes.
There are more than 20 user controllable settings in the VideoRay Pro 4 ROV camera that can be managed from the control panel including digital slow shutter, digital zoom, and white balance. The Pro 4 can be equipped with either a PAL or NTSC camera depending on which video format you require.
Digital recording of still images and video is built into the control panel and can be executed with the push of a button from the hand controller. Images and video are recorded in digital format directly onto the Pro 4 computer (or an assigned external hard drive), ready for nonlinear editing, online album sharing, or DVD authoring.
VideoRay also offers externally mountable High Definition (HD) camera set-ups ranging from cost-effective, compressed HD video recorded at the source to fully uncompressed fiber-optically transmitted 1080p in just about every professional format available. Our goal is to gather the needs of the shooter and deliver the most effective HD rig for the job.
The Pro 4 Plus BASE ROV system has been specifically configured to quickly and effectively perform advanced underwater imaging tasks. The system is a portable and cost effective advanced solution that can be deployed in minutes and operated by one person if necessary.
The Plus BASE configuration is ready to accept the majority of VideoRay accessories and is NOT delivered with a tether configuration so the user must select a new tether configuration for this system, or you may use any existing VideoRay tether. This system has enhanced processing power and is BlueView sonar ready (sonar not included).
VIDEORAY PRO 4 PLUS BASE ROV BASIC SPECIFICATIONS
Submersible Dimensions: 37.5, 28.9, 22.3 cm (14.75, 11.4, 8.75 in)
Submersible Weight: 6.1 kg (13.5 lb) with Full Ballast Set
Total System Weight (2 Cases): 38.5 kg (85 lb)
Depth Rating: 305 m (1,000 ft)

VIDEORAY PRO 4 PLUS BASE ROV SYSTEM INCLUDES
Pro 4 submersible
Pro 4 Integrated Control Box (ICB) with a high performance Dell computer
VideoRay Cockpit control software
Secondary 15" Hi-Bright daylight viewable display
Industrial hand controller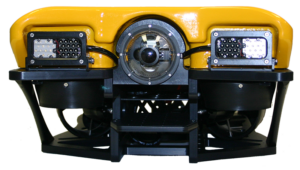 When failure is not an option,
trust VideoRay.

Get your FREE Case Study Proceanic Chooses VideoRay to Support Demanding Oil & Gas Missions and to Expand Operations As a leading engineering, project management,
Read More

Fill out the form below and a sales representative will be in touch with you soon.