Underwater robotic tool locates victim in poor visibility, provides forensic information, and keeps divers safe.
Jean Willie Mercier, 34, a Haitian worker for Césped del Valle in Limache, Chile, had been missing for hours when security camera footage of him walking near a lock with his dog was reviewed.  After he entered a blind spot for the cameras, only the dog remained.  Valparaiso-based special operations group GOPE was tasked with solving the mystery.
GOPE, led by used their VideoRay Pro 4 remotely operated vehicle, equipped with BlueView sonar, to review the 3-meter-deep locks to see if Mr. Mercier had fallen into the murky water. They soon located the victim using sonar, and captured still pictures and video for use by the Homicide Brigade in determining if foul play might be suspected.
Recovery of the remains was done by a GOPE diver, who followed the VideoRay tether to the body, which was illuminated by the robot's lights.
Back in 2016, Santiago Gutiérrez of Diving Services, a retired navy diver and diving instructor, provided GOPE with a VideoRay Pro 4 with BlueView multibeam sonar, and manipulator. Since acquiring the unit, it has been very effective and reliable, working with its sonar unit in limited visibility to search for hours nonstop.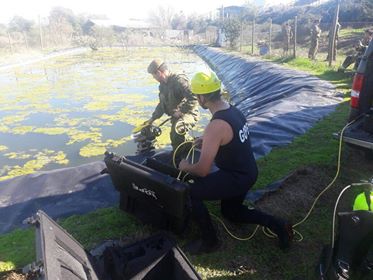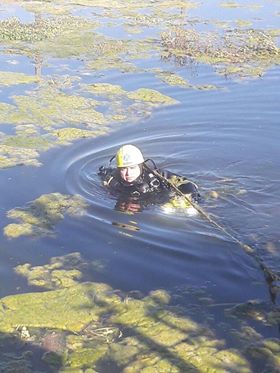 GOPE diver with VideoRay Remotely Operated Vehicle.