Insights Newsletter September 2022
Greetings! 
Mutual Aid is a wonderful thing, especially among first responders.  It ensures that when there are troubles that strain or exceed the capacity of existing resources, similar resources from surrounding areas can be called in to either assist directly or provide backup for the resources that are otherwise tied up with the urgent response. 
VideoRay has coordinated this type of mutual aid assistance between customers on a sporadic basis when we learned of a customer that was in trouble and we know other customers in their region with similar resources may be able to assist.  We would like to see the concept expanded as with think there is value for anyone who participates in delivering or receiving mutual aid. 
If you have thoughts about mutual aid as a VideoRay user or would like more information about the concept, please contact us at support@videoray.com to learn more or tell us your thoughts. 
By the way, September marks the one-year anniversary of the virtual VideoRay Insights Presentation Series.  Since that first presentation about new Mission Specialist products, we, and our customers, have delivered 22 insightful presentations and are planning many more.  Visit our Insights Page and take a stroll down memory lane.  We are sure you will find something of interest in our archive.  And, if you have a topic idea or would like to deliver a presentation, let us know. 
As always, please share your comments, recommendations, and requests to: insights@videoray.com. 
Virtual VideoRay Insights Presentation Series
VideoRay Defender Location Accuracy Tips and Tricks
This presentation will discuss the technology used in the Defender for navigation and its capabilities, followed by an examination of factors that can influence the accuracy and precision of the vehicle's reported position.  With that understanding, tips and tricks will be offered to help you start on the right foot, minimize the errors and techniques to make adjustments and corrections. 
Future Insights Presentation Events
Events are scheduled the third Thursday of every month
Troubleshooting Primer, Tips and Tools

Properly operating and maintaining your ROV system is crucial to your mission's success, but what do you do when unexpected technical complications inhibit this success? VideoRay strives to provide effective and user-friendly diagnostics that can get your system operational and back in the water. This presentation will cover the basic principles of effective diagnostics, troubleshooting materials that VideoRay currently offers, as well as an exciting look into a new, comprehensive diagnostic tool in the planning and development stages.

Presenter: Andrew Longua, VideoRay 
Using VideoRay ROVs to Teach Field Courses and Facilitate Student Research Projects

Learn how VideoRay ROVs can be used to allow students to explore and research aquatic and marine ecosystems. Project examples that will be shared include studying aquatic invasive plants and animals, changes in lake bottom contours, the amount and types of trash found on lake bottoms, and shipwrecks.

Presenter: Christopher Wells, Ed.D
Tether – Your ROV's Lifeline

This presentation explores VideoRay's various tether options and provides recommendations for when to use each type of tether and maximum workable lengths.  Also discussed are various rigging methods and techniques for deep dives or working in strong currents. VideoRay's Defender includes the option to use onboard batteries, which enhances the tether options by eliminating the need for power conductors and makes the tether thinner.  This hybrid power solution is a first in the industry and the possible configurations will be explained, including the pros and cons of each configuration.   

Presenter: TBD
Presentations may be added to the above dates and beyond – check the schedule for updates and recordings of past presentations [here].
Editing Waypoints and Missions
Waypoints and missions can be edited in multiple ways, and individually or in groups.  The simplest way to edit a single waypoint is to left-click and drag it to the desired location.  If you don't want to accidently move a waypoint, you can lock them individual or in groups.  For precise relocation to new coordinates, right-click on the waypoint and select Edit Waypoint, then enter the desired coordinate values.
The modifications can even be made while the vehicle is transiting, and the vehicle will adjust its course to compensate for the new destination.  If you select multiple waypoints (use CTRL+click after the first one is selected to select more), you can left-click and drag the selected group.  The active waypoint can also be moved by using the jog controls.  In this case the waypoint will move, not the vehicle (see this month's Operator Tip below for more about Jog Control Step Size).  
Another method of editing the waypoints is through the table in the Missions tab, Missions subtab.  Select one waypoint and double click it, or select multiple waypoints, then right-click and select Edit.  Note that when editing multiple waypoints, you will change all of them.  While this may be good for setting them all the same depth quickly, but it is unlikely that you want to see all of them to the same coordinate. 
An easy way to conduct a pier wall inspection is to set a waypoint at each end of the pier and fly the mission with the heading set so the camera faces the pier.  The distance from the pier wall will depend upon the visibility, and Auto Depth and Depth Lock should be set to on so the vehicle makes level horizontal passes.  When the ROV reaches the second waypoint, change the depth (again based on visibility so there is overlap with the previous pass) and select and go to the first waypoint to start the return mission.  Continue to repeat this process until you reach the bottom of the pier wall. 
Operator Tip of the Month – Lessons from the field
When it comes to precise positioning, jog controls within the autopilots tab can provide advantages over joystick inputs. Adjusting the Step Size values to suit your unique task is quick and easy; whether you need an "XY Jog" value of 1 foot to laterally shift between dock pilings, or you need a "Z Jog" value of 1 inch to inspect every detail along a vertical pipe, these values can be adjusted at any point to adapt to an evolving situation. For larger step values, it should be noted that the ROV may slightly overshoot its target location and then rebound.  This is expected based on the control algorithm, and it is therefore recommended to keep the step size small.  For safety, it is also better to use small steps repeatedly, than one large step than may cause an unintended impact with something. Jogging with step controls provides reliable movement capabilities with incredible accuracy.
Technician Tip of the Month – Lessons from the shop
Module problems can sometimes be difficult to diagnose when the symptoms are….
FAQ of the Month – Be "in the know"
Q:

What should I do if

my

ROV or tether become snagged?
A:
The first step is to assess the situation. Above all, you do not want to make the situation worse by trying to maneuver without knowing whether doing so will help or hurt.
If you can maneuver the ROV, try to turn around until you find the tether and follow it back to the point of the snag. You may need to turn left and right and with the camera looking up and down in order to find the tether.
For more advice, see:
https://download.videoray.com/documentation/mss/html_defender/emergency_snag.html
Survey Question of the Month – Be counted
After the Defender, Pro 5 and VersaRay,

Vid

eo

Ray

is working on the next Mission Specialist ROV with the plan to introduce a new

specialized

model once a year.  We are seeking

your

input for

the 2023 model design requirements and features.
User Project of the Month – Be engaging
Email us  information about your VideoRay project for a chance to win a VideoRay T-shirt!* 
This month's project highlight is the successful search for and inspection of a fishing vessel that sunk 50 miles off the coast of Maine in 700 feet of water.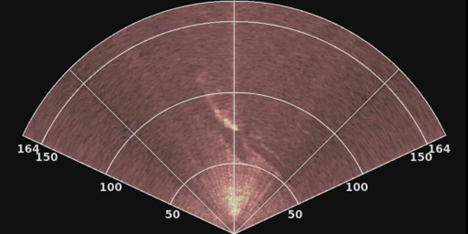 Sonar contact and advancing the ROV to the resting site.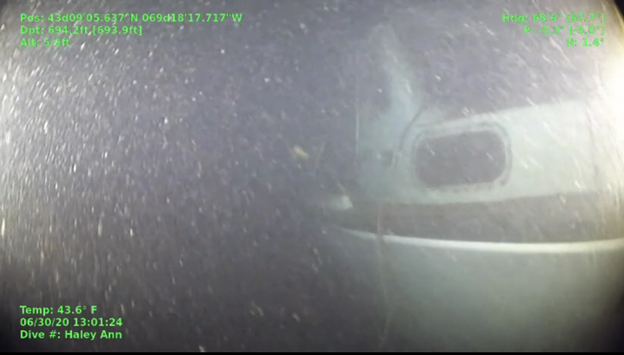 Traversing from the bow to stern along the starboard side.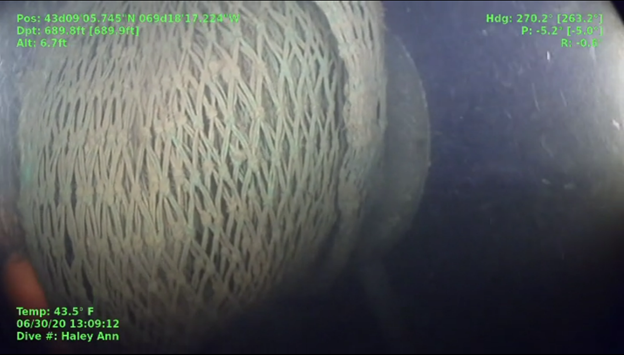 Confirmation the net was not deployed and (not shown in this image) the trawl doors were in the stowed position.
Product of the Month – Be informed
Workhorse Splashproof Controller
Quote of the Month – Be amused
-Observed on a sticky note attached to a control panel as a reminder.
Email us a quote for a chance to win a VideoRay T-shirt!*  
Photo of the Month – Be inspired
The Pointy End of an Alligator Up Close
Image from South Florida Water Management District Training Exercise
Email us a caption or a photo for a chance to win a VideoRay T-shirt!*  
Last month's photo caption winner
"O-Ee-Yah! Eoh-Ah"  
(Music from The Wizard of Oz during the march of the witch's castle guards.)
Tug-o-War, VideoRay Bollard Pull vs. Man
Photo by Scott Krelle, VideoRay Certified Instructor
Trivia Tidbit of the Month – Be stumped
In what year was the Pro 4 introduced?
Answers at the bottom of the page.
In-person classes are being offered in Key Largo, FL and at VideoRay's San Diego, CA office.
On-site classes are also available.
Live virtual classes are now being offered…  anywhere you want.
Self-paced virtual training lessons can be found in VideoRay's Training Library any time you want. Virtual Training Library
Email training@videoray.com or call 610-458-3000 and ask to speak to the Training Administrator for more information about              in-person classes.
Upcoming Classes
Mission Specialist Basic Operator, San Diego, CA, September 26-29, 2022
Tether Termination, Pottstown, PA, October 10, 2022
Mission Specialist Advanced Maintenance, Pottstown, PA, October 11-13, 2022
Pro 5 Basic Operator, Key Largo, FL, October 18-20, 2022
Pro 4 Basic Operator, San Diego, CA, October 25-26, with additional Sonar Day, October 27, 2022
Mission Specialist Basic Operator, San Diego, November 14-17, 2022
Pro 4 Basic Operator, Key Largo, FL, November 15-16, with additional Sonar Day, November 17, 2022
Pro 4 Advanced Maintenance, Pottstown, PA, December 1-2, 2022
Pro 4 Basic Operator, San Diego, CA, December 6-7, with additional Sonar Day, December 8, 2022
Pro 5 Basic Operator, Key Largo, FL, December 13-15, 2022
See more class dates and register online 
Meet VideoRay at these Upcoming Events
Dam Safety Show , Sep 18-22, 2022, Baltimore, MD https://damsafety.org/training-center/conference/dam-safety-2022
DEMA Show 2022, Nov 1-4, 2022, Orlando, FL https://www.demashow.com/DEMA22/Public/MainHall.aspx
Indo Defence 2022 Expo & Forum, Nov 2-5, 2022, Jakarta, Indonesia https://indodefence.com/
VideoRay Norway is an extension of the principles which have grown VideoRay into the worldwide leader in underwater inspection-class ROV technology. We deliver reliable, robust underwater ROV system with first-class service and support. We stand behind our product and your investment in VideoRay – our goal is to help you be successful with our products and services.
We specialize in and only work with in the Norwegian market exclusively performing VideoRay sales, support, and service.  Our Service Center and Sales Office is located at Fiskebøl, Nordland, but we work Norwegian-wide to support our customers. For more information visit: www.videoray.no
The Pro 4 was released for sale in December 2009.  Four Pro 4 systems were sold that year, but it went on to become the world's leading ROV.
* – Each month, one submission in each category will be selected and the submitter will receive a VideoRay T-shirt.  Please include your T-shirt size with your submission to expedite its delivery.  Use the respective links above to enter your submission.  VideoRay reserves the right to select its own submission.  Submitters agree that they have rights to the content they submit and to allow VideoRay unlimited rights to use and publish and their submission(s).